Summary rating from user's marks. You can set own marks for this article - just click on stars above and press "Accept".
Accept
XYZPrinting Da Vinci 2.0
Price:
$699
"Overall, we found the Da Vinci 2.0 to be a wonderful offering to the 3D printing world, and by far the most innovative model in its class."
Back to reviews
Visit website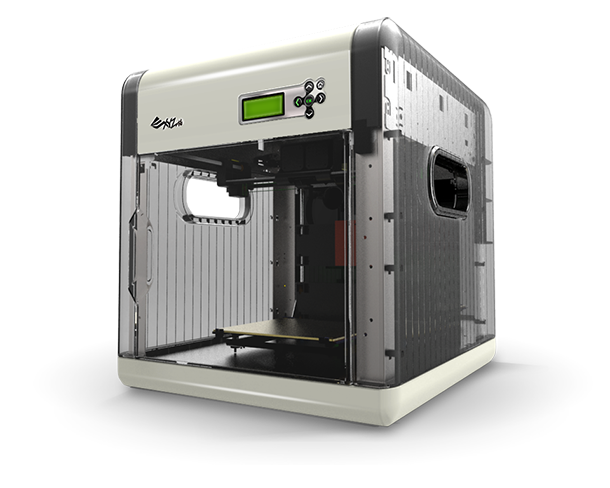 The Taiwanese company XYZPrinting set the 3D printing world on its ear 2 years ago when they announced they were putting out an industrial-quality printer at the quarter of the price of comparable models. The Da Vinci 1.0 was indeed a cut above the rest, in both quality and value. So it was no wonder that when they announced the release of the improved XYZPrinting Da Vinci 2.0 in April 2014, the 3D printing world once again stood up and took notice. With more features and a slight increase in price, this printer is indeed the most innovative in its class.
XYZPrinting has gone to great lengths to ensure an easy experience from the very beginning, whether you are a novice or expert-level user. A lot of other printers take a lot of setup, configuration, calibration and manual tweaks. The Da Vinci 2.0, on the other hand, is just about ready to go right out of the box, with little setup required besides proper unpacking and software installation. Within 30 minutes, your printer can be loaded with 2 different colors of filament and heating up to prepare for your first print job.
Although a lot of printers come with the ability to accommodate rolls of filament that you can buy anywhere, as long as it is one of the materials that the printer supports, the Da Vinci takes a specific type of cartridge roll. The cartridge contains 600g of ABS plastic, in one of 12 available colors, which can be easily threaded into one of the extruders, as well as a chip on the bottom like you would find on an inkjet printer, designed to monitor use and warn you if you don't have enough material to complete a job.
This may discourage some people who believe in totally open source 3D printing, and make them think that this is another attempt by a company to proprietize materials used by their printers. With a price tag of double what it would cost for a generic 1kg roll, those suspicions would be justified if it was marketed as anything but a means to monitor material usage. That convenience alone may be worth the price for some people, as it is indeed a huge advantage when it comes to preventing waste and failed print jobs. If it were possible to refill the cartridges with standard ABS, however, it would go a long way toward pleasing open-source advocates.
Part of the value of any product is how it looks. If you put this printer beside one with similar capabilities but mounted on a bare, plain looking frame, most people will choose the Da Vinci, which is one of the nicest looking printers in its class. In addition to a great visual design, it has a great functional design. On-board programmable logic chips, tied into an LCD screen and control inputs, provide an intuitive menu designed to help you set up jobs and prompt you when different steps are complete.
Dual extruder heads are one of the upgrades that come with the Da Vinci 2.0 and they provide wonderful two-toned printing results. You can go onto XYZPrinting's website and download any number of models available, which you can import into your printer with ease. Once the filament cartridges are loaded and the 3D model is loaded, simply apply a layer of glue to the plate with the supplied glue stick and wait for the extruder and plate to reach optimal printing temperatures. Once it is ready and the first few lines are printed, the LCD readout will display an estimated completion time in hours and minutes, letting you know precisely how long you will have to wait for your results.
When the job is complete, you will see another convenient message on the LCD that says to wait for the object to cool before removal, and it will let you know when you can safely proceed to extract the finished product without burning your fingers. This is another handy feature that we liked a lot, keeping safety in the forefront, which is very important when using this printer in the home. Dabbing water on the plate around the base of the printed object with a swab or paper towel makes extraction with the scraper easy, while ensuring that the object remains intact.
The Da Vinci comes with a great software package, called XYZWare, which makes it easier than ever to configure and initiate a print job. Compatible with both Mac and Windows systems, a simple drag and drop interface allows you to put the design right into the build area with very little effort or advanced configuration.
With a layer resolution of 100 microns, an average speed of 150mm/s and a build area of 200 cubic millimeters, there is an excellent balance of build size, quality and speed for the price, allowing levels of prototyping for hobbyists and small businesses alike that exceed the capabilities of most printers in its class. A USB connection provides easy plug-and-play connectivity and importing over the cloud is possible through XYZWorld, an online community of printer owners coming together to share designs and assist with questions and concerns.
Da Vinci's support is also great, providing email and phone contact methods for technical or sales questions, as well as the XYZWorld community, video tutorials and an extensive FAQ section to help you obtain quick answers to your more commonly asked questions.
Overall, we found the Da Vinci 2.0 to be a wonderful offering to the 3D printing world, and by far one of the most innovative models in its class. With a suggested retail price of just $699 and free shipping if you purchase through their Amazon store, you can have your very own 3D printing solution in your home or small business and running in a matter of days. With all this and more, the XYZPrinting Da Vinci 2.0 ranks on our list of iReviews 2015 best 3D printers under $1000.
Related YouTube videos:
Embed: <a href="http://3d-printers.ireviews.com/xyzprinting-da-vinci-2-0-review"><img src="http://www1.ireviews.com/images/2015-iReviews-silver-badge.png" alt="xyzprinting da vinci 2.0 iReview"/></a>