Summary rating from user's marks. You can set own marks for this article - just click on stars above and press "Accept".
Accept
Ultimaker 2
Price:
$2,500
Pros:
1. New and improved look.
2. New and improved frame that is more durable.
3. Blazing fast print speeds.
Cons:
1. Limited materials supported.
2. Smaller builds than others in its class.
3. 4-6 week lead times on orders.
Back to reviews
Visit website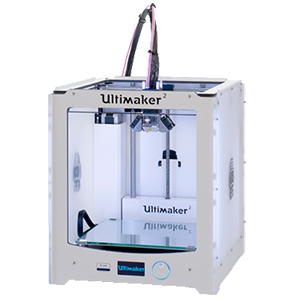 Ultimaker's new 3D printer offering, the Ultimaker 2, is another printer on our list that has been upgraded in a major way, as well as vastly improved over previous models. What used to be an average offering in the original Ultimaker, an average-quality printer with a plywood frame that was designed to be inexpensively built, is now a streamlined, sleek and durable printer that possesses great speed and accuracy, as well as the biggest footprint-to-build ration of any other printer in the market, let alone printers in its class.
The Ultimaker 2 is one of those examples of a company seeing what could be improved and rising to the challenge in a way that has quickly brought them up to par with the competition. Ultimaker is a company that has been dedicated to producing the finest quality 3D printing solutions since they rolled their first printer off their production lines in 2011. With the Ultimaker 1 they set a powerful standard and with the Ultimaker 2, they raised that bar even more. In addition to producing fine hardware, they also support a top notch community sharing platform, as well as a free, open source software solution.
In addition to open source software, the Ultimaker 2 has open material support as well, which means that it can support any brand of filament and is not bound to proprietary materials. Once the filament brand of your choice is loaded into this printer, you can print at up to 300mm/s and with a layer resolution as fine as 20 microns. This printer also has decent build sizes and a footprint that is small and low profile enough to fit on most desktops. When combined with its low price tag, the Ultimaker 2 is an excellent option for the home enthusiast who has the means to afford more than the garden variety budget printers that are starting to surface more and more lately.
Included in this package is also a heated print bed, which allows for printing with ABS filaments. You will pay a little more for filament with this printer than you will with others, due to the increased diameter of 2.85mm when most standard filaments available are 1.75mm thick. Although it still amounts to the same amount of money per square cm of material, the increased cost of a spool of 2.85mm filament may be discouraging to people who are on a tighter budget. We don't see this as too much of a problem though, as most people with a tighter budget would go with one of the lower priced printers instead.
With this printer, you also get stand-alone, SD card based printing, which allows for on-the-fly production without having to be connected to a computer. This really comes in handy in an industrial environment like a warehouse, where there are plenty of electrical outlets but few places to put a computer. There is also future upgradeability to Wi-Fi printing, which will make that process even more convenient. With these things, plus the array of other world class quality specifications, we are glad to include the Ultimaker 2 in our list of iReviews 2015 best 3D printers under $5000.
Embed: <a href="http://3d-printers.ireviews.com/ultimaker-2-review"><img src="http://www1.ireviews.com/images/2015-iReviews-bronze-badge.png" alt="Ultimaker 2 iReview"/></a>