Summary rating from
2
user's marks. You can set own marks for this article - just click on stars above and press "Accept".
Accept
Tesla Model S P85D
Price:
$120,000
Pros:
1. Longest range of any other electric car
2. Most horsepower
3. Autopilot
Cons:
1. Price is higher than most can afford
Back to reviews
Visit website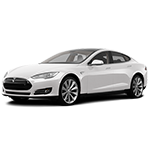 The Tesla Model S P85D is one of the best cars available to U.S. customers that we have ever seen, not just the best electric car. Tesla is dedicated to producing the best cars that money can buy, with advanced technological capabilities, superior performance and eco-friendliness all rolled up into one package. Unfortunately, that package is rather expensive for most people in the first couple years of production, at over $100,000 depending on the options you choose, and we hope that the price will come down as the technology becomes more common in the coming years.
Where can we start with this exceptional example of automotive engineering that is as aesthetically pleasing as it is technologically advanced? To begin with, the P85D comes with considerably more powerful engine than the previous model S, clocking in at 691 horsepower. To put that into perspective, that is roughly the same as the Lamborghini Aventador and over 100 HP more than the Ferrari 458, and relatively less expensive, at a quarter of the price of a Lamborghini and half the price of a Ferrari. The Model S P85D can go from 0 to 60 MPH in approximately 3.2 seconds, which also rivals the best performance cars out there today. This is possible with the P85D's higher power-to-weight ratio due to its ultra-light frame, motor and body.
The P85D comes with a dual motor all-wheel drive system, outfitted with a special suspension that increases both power and handling, and can handle a top speed of 155 MPH. This model also comes with a carbon fiber spoiler, 4-piston heavy duty brake calipers, and an extended capacity, quick charging battery that has a rated range of 285 miles and can charge to half capacity in 20 minutes and full capacity in about an hour. Free charging stations across the country provide a means to recharge when needed, allowing you to drive from coast to coast with no worries. Charging station locations are included in the onboard navigation system. You can also charge on the road as you are moving with a mobile charging generator that you can add on for an additional cost.
One of the most impressive features of the Tesla Model S P85D is the autopilot system, which is designed to sense and identify roadway obstacles, turns in roads and other traffic, making corrections as it goes. Although it is still considered to be in the beginning stages, the technology is already off to an impressive start, and with future software updates, we expect to see a far more sophisticated system being developed in the next year or two, one that is capable of complex safety, evasion and compensation maneuvers.
Also included with this model are an advanced technological system embedded in the dashboard, a state-of-the-art sound system, interior lighting packages and any of a number of trims and materials you can choose from, as well as colors. They also provide winter packages that contain extra seat heaters, winter tires and wiper and water reservoir defrosters. You can also install rear-facing seats in the back.
With a wealth of features and advancements in technology, wonderful style and tons of power, the Tesla Model S P85D is truly a marvel of modern automotive engineering and worthy of the top spot on our list of iReviews 2015 best electric cars.
Related YouTube videos:
Embed: <a href="http://electric-cars.ireviews.com/tesla-model-s-p85d-review"><img src="http://www1.ireviews.com/images/2015-iReviews-gold-badge.png" alt="Tesla Model S P85D iReview"/></a>