Summary rating from user's marks. You can set own marks for this article - just click on stars above and press "Accept".
Accept
Solidoodle 4th Gen
Price:
$999
"Overall, we found this offering by Solidoodle, its 4th Generation 3D Printer, to be in a class of its own and definitely worthy of placing in our list of iReviews 2015 best 3D printers under $1,000."
Back to reviews
Visit website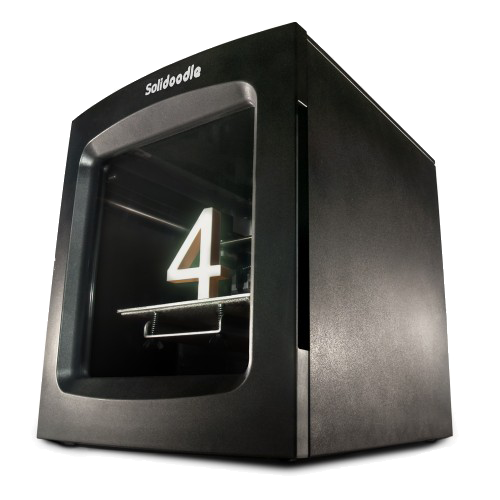 Although Solidoodle is a relatively new company, in business for only 3 years, its founder has deep roots in the 3D printing community and has experience working for a few different companies that are recognized authorities in the 3D printing world. What you get from that is the benefit of years of experience and trial and error. You end up with a product that is produced as a result of all of that experience, by a company headed by a person who knows what the best and worst models have to offer. You end up with the Solidoodle 4th Gen 3D Printer, one of the best 3D printers available for under $1,000.
This printer, hand-assembled in Brooklyn, NY, comes packed with the main unit, a power cord and a bag of accessories. Once removed from the box, removal of packing materials is simple, which involve a plastic cover over the front door, a sticky paper sheet protecting the door glass and a wad of bubble wrap designed to hold the table assembly in place to keep it from moving during transport. There is a top lid as well that can be opened for easy access to the single extruder head, belt driven axis controls, heated build plate and threaded rods for moving the plate up and down. Once the packing materials are removed, the top and side doors can be closed, allowing a totally enclosed environment designed to keep consistent ambient temperatures for the best quality printing possible.
Care must be taken before first print to ensure that everything is adjusted and lined up correctly. Anytime you encounter anything like this that is hand made, there will be a margin of human error that must be accounted for. The motor works will be tested in the factory, so little to no initial adjustment will have to be made there. The main concern will be the front door, which closes with a magnetic catch. To ensure that you are getting a tight enough door seal, so that little heat escapes the build area, you will want to check how the door closes and, if possible, adjust the magnetic catch to accommodate a tighter fit. Since this is essentially a cabinet that can be opened and closed, door fit is very important.
The accessory pack that comes with the printer includes some test filament, a USB connection cable, a cleaning kit with a toothbrush and scraper, and a pipe and brackets that go on the back of the machine to hold filament spools. We found the overall engineering on the unit to be pretty good, such as a set of stops designed to keep the top door from flopping back and getting damaged. The spool holder can accommodate about 4 rolls of filament, although its protrusion increases the overall footprint of the unit, meaning that it will take up more surface space. This, as well as having to assemble and mount the spool holder, might diminish the initial user experience in some peoples opinions, but there is a definite trade-off between convenience and functionality, especially in a unit such as this.
The Solidoodle 4th Gen can accommodate some of the biggest builds you can get with a printer under $1,000, at roughly 204 square millimeters, or 8 square inches. That is big enough for any home application and most small business and prototyping needs. There is only one extrusion head, limiting the colors and materials to one at a time, but accommodation of both plastic and ABS materials make this unit a lot more versatile as far as what types of things can be built, which is always encouraging. Speed is a little lacking, however, but is made up for with superb quality that can be achieved down to 100 microns (0.1 mm).
Connection to your computer via USB and installation of the software is quick and easy, like most plug and play devices, and you can be configured in minutes and ready to go despite the fact that some initial setup is required. Although this is not necessarily a straight out of the box product, any relatively technically minded person can square it away easily. Since most people who purchase this unit at this point will be somewhat technically inclined, we do not foresee any major snags in the setup process, although some might find that process to be inconvenient and unnecessary.
Another major plus concerning this printer is that it does not use proprietary filament types, but was designed to accommodate standard 1.75mm PLA and ABS filaments that can be found just about anywhere that sells 3D printing materials and accessories. This flexibility and value when it comes to materials does indeed help to offset the higher cost of the unit over time and the savings will be seen by the time the first roll of filament is consumed.
Overall, we found this offering by Solidoodle, its 4th Generation 3D Printer, to be in a class of its own and definitely worthy of placing in our list of iReviews 2015 best 3D printers under $1,000.
Related YouTube videos: