Summary rating from user's marks. You can set own marks for this article - just click on stars above and press "Accept".
Accept
Pirate3D Buccaneer
"All in all the Pirate3D Buccaneer, despite being very low cost and not containing a lot of the extra amenities of other printers in its class, is a great choice if you don't have a lot of cash to spend on a 3D printer."
---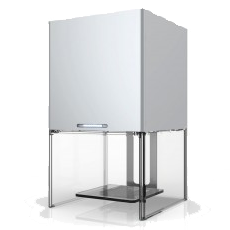 Pirate3D, a new company out of Singapore, has managed to not only produce a decent quality 3D printer, but for under $500, which is extremely impressive. To fund their initial kickstarter campaign, they offered an initial run of their Pirate3D Buccaneer printer now priced at $347, for only $247 if you got in on the ground floor. The result of those efforts was that over $1.4 million in funding was raised, which amounts to a lot of printers sold. If they are able to offer their printers for such a low price, their manufacturing costs must be amazingly low. But the question that is always asked when it comes to such a deal is: What do you get for the money? Does the discount in price amount to a discount in quality as well?
The unit comes very well packed and protected for shipping to anywhere in the world. You could just about drop it off of a building and the printer inside would remain intact. Although the packaging is extremely secure, the printer is still very easy to unbox, as there was a whole lot of thought that went into the packaging as well and not just the product. This shows an impressive level of engineering that you don't see very often in the world of technology.
Setup is extremely easy as well. A quick-start sheet is included in the box, which instructs you to download and install the software, which will allow you to connect wirelessly to your printer and begin your first print job. The rest of the unpacking is easy and takes minutes. Before you know it, you will be up and running with no calibration required. It will only be necessary to attach the build plate to the motor, which was probably left off to prevent shipping damage. The build plate requires no hardware, however, and just lays into 2 magnetic grooves, making this one of the simplest and most straightforward ways to assemble a product that is possible.
One of the coolest features that is immediately noticeable is the tray at the top of the printer that accommodates the filament roll. The filament can be threaded into a hole to allow it to go into the extrusion head and the roll can lay neatly into a recessed groove that leaves the filament roll completely concealed. This keeps the unit compact and doesn't affect the amount of space that is taken up.
When handling the unit to determine what is inside the case, there is a plastic feel to it and it doesn't seem as sturdy as some of the other models in its class. Once you look down the top of the case, you will see the extruder head and circuit board neatly concealed at the top of the movement rail. There is also a small heating block on the extruder head, which is standard, to heat the filament properly during printing. The main board is concealed at the bottom of the unit and not visible when it is sitting on a tabletop surface. What you get from the user's perspective is an impressive combination of laser cut stainless steel and clear plexiglass that makes a beautiful visual presentation, making this printer look like others that are three times its cost.
We were slightly disappointed that, despite the printer being an excellent value out of the box, the filament is proprietary. This means that you must purchase filament from them to use, which might cost more than a generic type that can be purchased from a supplier elsewhere. Seeing that the design accommodates a specific filament roll size and there are specific recommended extrusion temperature ranges recommended, this is most likely to maintain both a compatibility and quality standard. It may be possible, however, to put a generic PLA filament into one of their rolls as a refill, but as far as we know, no one has tried to do this yet.
At this point, all that is left to do is connect the power supply, connect the printer wirelessly to your computer using the SSID on the sticker found on the back of the printer, then grab a model from the source of your choice to start printing. You are now off and running with your first print job.
Build volume is 145 mm L x 125 mm W x 150 mm H with a resolution of as little as 50 microns (0.05mm), which allows for a great amount of detail and a wider variety of prints, although the volume is smaller than a couple other printers in its class. The unit's footprint is very small and can be accommodated in just about any space and on any tabletop surface. The Buccaneer is very light as well, weighing less than 8kg (about 17 pounds). It can connect via Ethernet or WiFi, in both client and ad-hoc mode.
All in all the Pirate3D Buccaneer, despite being very low cost and not containing a lot of the extra amenities of other printers in its class, is a great choice if you don't have a lot of cash to spend on a 3D printer. It is also very easy to configure and use without needing a lot of technical expertise. Some of the samples we have seen were very nice as well. There is a lot of potential for this printer and that's why the Pirate3D Buccaneer has made our list of the 2014 top 3D printers under $1,000.
Related YouTube videos: