Summary rating from user's marks. You can set own marks for this article - just click on stars above and press "Accept".
Accept
Omate X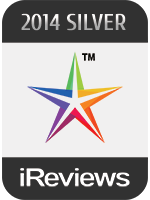 "The Omate X looks very promising as its creators have learned a lot from their previous project with the TrueSmart."
---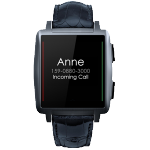 The Omate X was designed for people looking for an elegant and fashionable smartwatch they can wear every day. The Omate X is one of iReviews 2014 top picks for smart watches for being the most stylish. Omate's mission is to connect the World through your wrist.
The Omate X is able to connect and be a companion with both Android and iOS smartphones. The X talks to your phone via Bluetooth 4.0 so you can see what's going on at a glance. The X can be controlled with your voice. It has a microphone and a speaker. The X has a 3-axis motion sensor, and the accelerometer buttons on the side are used for power and home functions. The X even provides you with weather information. It can even be used as a remote control for music playback on your phone.
The Omate X uses push notifications for incoming calls, social media updates, reminders and more and it goes straight to your wrist. The smart watch is powered by the MediaTek Aster (MT2502) and uses Nucleus RTOS to send you those notifications from apps on your smartphone. It also offers an LCD touchscreen. It offers a sports hub for walking, running, biking, and more of your physical activities. It uses an artificial intelligence that is controlled through voice control.
Omate is one of the latest companies to attempt to create a nice looking, premium smart watch. It is designed to look more like a normal watch than a smart watch. The watch face is only 11 millimeters thick and fits to any 22 millimeter watch strap. It comes with genuine leather straps, but you can also customize your watch with a variety of bands depending on what you are doing, for instance, you might wear a nice leather strap to dress it up, or a NATO strap to dress it down. The Omate X is an upgrade from the TrueSmart with its original bulky appealing style, which featured large buttons and a silicon strap, the Omate X aims to blend innovative technology with fashion forward awareness.
It is powered by a 400mAh battery and the company claims that the smart watch's battery life will be about seven days in standby mode. The Omate X measures 45x41x11.2 mm, features a 1.54-inch touchscreen with a 240 x 240 pixel resolution. The smart watch's face is made of a very durable sapphire glass. It has a customizable clock, wallpaper, and other features. It is also equipped with a stopwatch and timer. The Omate X can also record videos.
The Omate X promises simplicity and longevity. You will not be doing everything on this smart watch, but you will be able to see updates that count, like messages, email, and more. You can still control media playback and monitor your fitness via the smart watch's accelerator. The CPU is a newer MediaTek MT2502A, the clock speeds are unknown, and it has a memory of only 128 MB of Ram. The watch only has two buttons, one for returning to the home screen and another as a power button for turning the watch on and off.
As opposed to the TrueSmart that was created for 10% of your time during of which you partake in outdoor activities, the Omate X will take care of the other 90%, as you can switch bands and wear it with almost any activity. It will allow you to enjoy all of the benefits of a companion smart watch without having to sacrifice your chic look. The interface is even simpler and more user-friendly in comparison to its older brother TrueSmart. The Omate X looks very promising as its creators have learned a lot from their previous project with the TrueSmart. They worked really hard to fix all of the mistakes, and now they appear to have a great product with a great price.
Omate is a telecom software/hardware design start-up dedicated on building solutions for the wearable computing industry. They are dedicated to design innovative wearable telecom products that provide new ways of communication in the mobile world. Omate actually stands for Outdoor Mate. They designed the world's first software ecosystem running on top of Android that is dedicated to the wearable telecom device of Omate User Interface a.k.a OUI.
Wearable industry is on the rise, with the smart watches gaining popularity every single day, so do not miss a chance to test it out for yourself. For a reasonable price of only $199 you can own your own Omate X. It will be in a key position to take on the fiercely anticipated Moto 360, and at half the price and almost 3x longer battery life, it's worthy of inclusion on our list of iReviews 2014 best smart watches.
Related YouTube videos: