Summary rating from user's marks. You can set own marks for this article - just click on stars above and press "Accept".
Accept
Olomagic 180 Degrees
Price:
$4,332
Pros:
1. Projects a clear 3-D image visible from 180 degrees.
2. Can be used with physical objects to highlight your products.
3. Projector can be customized with your company's colors or logo.
Cons:
1. Holographic projection is limited to within the display section of the Olomagic.
2. The projector is not easily portable.
Back to reviews
Visit website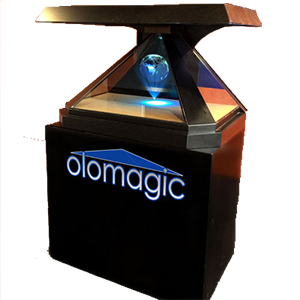 If you have recently been to a trade show or product launch, you have probably seen rows of conference tables covered with products, brochures and other company promos. This projector aims to change that by drawing in potential customers in a new and innovative way. The Olomagic 180 Degrees, also called a Magic Display, is a holographic projector. The holographic images are contained within the pyramid shaped display section on top of the stand.
Marketed to businesses, this projector can display images by themselves or display images around a physical object. The images are limited to the size of the display unit, but can be in full color and three-dimensional. These images can float, spin, twist, pop up or disappear. The effect is eye catching and unique. For example, a company could arrange jewelry within the display and have 3-D images of flames, water or other pieces of jewelry floating around the actual products. Images are loadable through a USB drive. The YouTube videos below show a variety of ways businesses have used Olomagic 180 Degrees to promote their own products.
Another nice feature is that the stand can be customized with company colors and logos. That way, customers can easily connect the product with the company name. Viewers can stand either in front of or to the side of the unit and see the images without the need for special glasses. The LED light within the display unit is adjustable and the images can be changed fairly easily. Because of advances in holographic technology, the effect can be quite lifelike. If you wanted to set up your own holographic projector, you would have to set up a film plate with the desired image, a laser light source to project it and some type of screen to see the image. A self-contained unit like Olomagic 180 Degrees, however, simplifies the process for you. The unit can also be purchased or rented. Conversely, having a holographic projector saves space and time of displaying multiple physical products.
Olomagic 180 Degrees is a fairly new product, so it's not clear if there are uses beyond business and marketing just yet. Their website, associated blog and YouTube videos tout it solely as a marketing tool for businesses. The size and cost of the unit makes it impractical for a home setting. It could possibly be used in an educational or informational setting (such as a school or museum) but because the images are limited to the size of the unit, you could not use it for a large group of people. However, the fact that it is self-contained means viewers can get right up to the display case. For example, a dinosaur museum could display an actual fossil, with the process that went into creating the fossil displayed behind or around it. Speakers can be also be added to heighten the experience with sound or music. Because the images can be dynamic, the display seems somewhat interactive.
Early holographic technology required either light and mirrors or projectors to reflect images. Magicians would project ghosts or objects onto a screen to dazzle audiences. Advances in computer technology designed to store and retrieve images make holographic projection less of a smoke and mirrors type process. In addition, advances in laser technology make images realistic, full color and three-dimensional. The precision available to select and display detailed images opens up new possibilities. Holographic projection is widely used in the entertainment industry, but translating what was previously only for entertainment into something functional transforms a product like Olomagic 180 Degrees into a practical tool.
Sharper, HD-type images are harder to produce on a stage or crowded theater because of factors such as weather, light and distance needed. The self-contained Olomagic 180 Degrees, while limited in scale, solves some of these issues by containing the image in a controlled environment. Potential customers or viewers can come right up to the glass and see images appear and transform right in front of them. The company suggests, without further explanation, that touch or haptic technology is also possible with this projector. This would make it possible for a viewer to use a glove or joystick to interact with the displayed image. It is not clear if there are any gaming possibilities with this type of projector.
Olomagic has offices in Spain and Italy. The Olomagic projector is available directly through them and not widely marketed. It is unclear how fragile the unit is and how easily it could be shipped. We would assume that this technology, at this scale, could be used in other applications if available more widely. Hopefully, because the company is small, they would take more care in ensuring the product is well made and functions correctly. Though holographic projection has existed for a few decades, full color, 3D holographic projection is fairly new. Olomagic's current suggested use as a marketing tool is both interesting and innovative. With exceptional quality, innovative design and a means to change the way marketing is done, we are glad to rank Olomagic 180 Degrees on our list of iReviews 2015 best holographic projectors.
Related YouTube videos:
Embed: <a href="http://holographic-projectors.ireviews.com/olomagic-180-degrees-review"><img src="http://www1.ireviews.com/images/2015-iReviews-bronze-badge.png" alt="Olomagic 180 Degrees iReview"/></a>