Summary rating from user's marks. You can set own marks for this article - just click on stars above and press "Accept".
Accept
Nikon ModelMaker MMCx
Price:
$25,620
"The accurate measuring and innovative instrumentation features of the Nikon ModelMaker MMCx have made it a top brand in its category."
Back to reviews
Visit website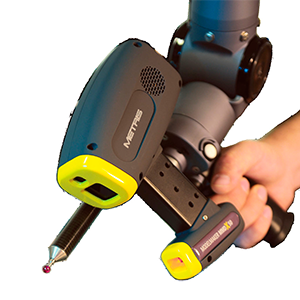 The Nikon ModelMaker MMCx laser scanner delivers high value for its price. This reasonably priced device uses the latest technologies to provide the best possible results. If you want a portable solution for 3D inspection or a handheld device for reverse engineering purposes, this could be one of your top choices. The ModelMaker MMCx is capable of scanning any surface accurately. Along with a wide frame rate, the scanner has a stripe width of up to 160mm. The Enhanced Sensor Performance (ESP3) technology of the MMCx ensures maximum output while scanning different types of objects with different surface types.
The advanced technology used in MMCx automatically adapts the laser power to detect the surface characteristics of the scanned object. It is capable of detecting both the reflectivity and the color of the surface. Therefore, you will be able to scan objects with any texture, color or surface with the ModelMaker MMCx. You won't need to spray or re-scan the objects as you go along. The digital camera used in this scanner offers a non-interpolated resolution of more than 1000 points per stripe. The camera is also capable of measuring objects accurately up to a distance of 12 microns. As a result, you will get maximum resolution while scanning freeform features.
Measuring soft and fragile parts or components has always been a challenge for 3D scanners. Regular scanners provide faulty measurements and they often leave surface scratches on the objects. But that's not the case with the MMCx. As this scanner uses laser scanning technology, and laser scanning never touches the object physically, there is no chance of damaging scanned parts or providing inaccurate measurements. The laser scanner comes with a great scan rate and more than adequate point density so geometric features are scanned perfectly with MMCx. Recognizing the exact features, shape and surface is critical for ensuring high-quality product assembly and part matching. MMCx makes sure that you are getting all of these.
With a weight of only 400g and a reasonable stand-off distance, the MMCx is perfect for ergonomic use. Nikon has used the latest technologies such as temperature compensation, isolated thermal zone, on-board processing to optimize the portability and the set-up time of its scanners. This has helped in making the MMCx perfectly usable without requiring any extra controller or any excessive cabling.
An interesting feature of the ModelMaker series is its clever use of an anti-reflection filter. The filter ensures perfect measurements for scanning polished or shiny materials and surfaces. It accurately filters all the reflective laser lights that are emitted in many directions. The inclusion of ES3 allows the scanners to scan convex surfaces easily. While most other scanners couldn't perform well due to poor light reflections, MMCx works effortlessly in these cases.
Nikon's MMCx makes use of dynamic laser intensity adaptation system. This allows the users to scan different types of finishes, materials and surfaces with minimum user involvement. This technology is very useful for scanning the same parts in different stages of the manufacturing process. With laser intensity adaptation, it is possible to scan the bare metal sheets initially and then scan the finished, colored products at the end.
The ModelMaker scanners interact with Focus software perfectly. This seamless interaction benefits the data acquisition, and later, the inspection processing. The total solution combines software and hardware into a tightly integrated package that provides an error-free, smooth performance. Focus comes with native support for optical CMM, an articulated arm and scanning probes. It is specially developed for controlling data flow without requiring continuous user interaction. As a result, performing inspection, data acquisition, etc., are now possible without affecting performance.
Nonetheless, there are other alternatives for the MMCx, thanks to the Nikon Metrology API. If you don't want to use Focus, you can use your MMCx scanner with other 3rd party applications like Rapidform, PolyWorks, Geomagic etc. In regard to reverse engineering jobs, MMCx supports most of the popular third party packages.
If you already own a scanner localizer, there are good chances that you will be able to use that with your MMCx. This scanner works seamlessly with Nikon's MCAx series and a lot of third party produced arms. Using the scanner is very easy too. A major selling point of the MMCx is it does not need any kind of configuration. You can connect it with your laptop through Ethernet connection. It does not need any controller interface or any such thing. It is ready to use right after unboxing. The MMCx could be used either indoor or outdoor. Attach it to an articulated arm and you have got a very powerful scanning solution.
Nikon Metrology is a sister concern of Nikon. It markets the former Metris products along with Nikon Instrument division's industrial inspection solutions. With a legacy of innovating non-contact metrology equipment, Nikon Metrology brought laser scanning technologies to handheld applications with MMCx. The company currently offers the largest collection of metrology solutions for various purposes ranging from miniature electronic projects to large-scale aircraft industries. The accurate measuring and innovative instrumentation features of the Nikon ModelMaker MMCx have made it a top brand in its category, and worthy of inclusion on our list of iReviews 2015 best 3D scanners under $50,000.
Related YouTube videos:
Embed: <a href="http://3d-scanners.ireviews.com/nikon-modelmaker-mmcx-review"><img src="http://www1.ireviews.com/images/2015-iReviews-silver-badge.png" alt="Nikon ModelMaker MMCx iReview"/></a>