Summary rating from user's marks. You can set own marks for this article - just click on stars above and press "Accept".
Accept
Makerbot Replicator Z18
Price:
$6,499
"In conclusion, the Makerbot Replicator Z18 is a very intriguing and innovative product, with its massive build volume and the best price to performance ratio in its category."
Back to reviews
Visit website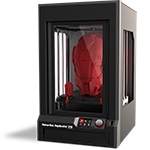 With the Makerbot Replicator Z18, you can think bigger and better than ever. Makerbot has created the most powerful, massive and refined printer yet that will change the way you think about 3D printing. It has a build volume of 2,592 cubic inches that will give you the power to make extra-large and ultra-tall industrial products, models and prototypes. You will even have the advantage of printing multiple things at once so you can move on to your next design sooner. The device can print items that are 12 inches long by 12 inches wide and 18 inches high in comparison to the Replicator Mini that can create objects 3.9-inches long by 3.9-inches wide and 4.9-inches high, for a total of about 75-cubic inches. The Z18 costs $6,499, as opposed to the Mini that costs $1,375.
One way the Z18 ensures a seamless workflow is through Wi-Fi, USB and Ethernet connectivity. Feel free to control your Makerbot Replicator Z18 from anywhere with Makerbot Mobile. Software is also available at a zero cost, which allows you to store, organize and design files. You can even find, buy and prepare your files from one central location for quick and convenient printing.
Print large models with minimal curling due to the enclosed and heated build chamber. It will take longer to print due to the large area that needs heating, but the quality that is produced will be well worth the wait. Makerbot PLA filament is the best and most consistent filament available for the Z18. When printing is complete, your design is complete with a smooth to the touch surface that doesn't need any post production, sanding, or finishing.
The Z18 also has a 100 micron layer resolution that gives you the ability to print paper-thin layers. You are also able to create professional-quality, high-resolution prototypes and complex models. It has a super flat build plate capable of creating greater reliability and cohesion. Also available with the Replicator Z18 are the MakerBot Cart for easy transport and a MakerBot Filament Case.
Also featured is a 3.5 inch full color LCD display that makes it easy to browse all of your menus and files. It is also APP and Cloud enabled. While it is printing, you are able to scroll through a few screens, such as one that shows the object being printed, followed by file information, print data and temperatures. Software formats available with this printer includes STL, OBJ, Thing, and MakerBot. It has a layer thickness of 0.1mm.
The Makerbot smart extruder uses a filament detector system that will send you a message when you run out of filament, to help keep you on track and not waste your time and materials. There is also an onboard camera, which gives you the ability to monitor your prints and even distribute them across your social network, so you can show off your designs in the moment. Makerbot offers plenty of support for your Makerbot 3D printer through email, forum and knowledge base, tutorials and FAQ's, so whether you are encountering setup up, production, system or product problems there are multiple ways to get the help you need.
MakerBot's enterprise has been booming for the past five years. Co-founder Bre Pettis started the Brooklyn, New York company in 2009, and in a short period of 5 years, they have gone from 4 employees to 150. The company is built upon a lively group of operators, tinkerers and hackers working on cool products all around the world. Even Adam Savage used Makerbot to make parts for a replica Hellboy glove that he owns. One person can do anything with 3D printing, but imagine what could happen if it was expand to 10,000 people. Then the question becomes: How do we change the world together?
Printing objects in 3D is an exhilarating and innovative advancement in the manufacturing and technological world that needs to be experienced by everyone. The sooner we all jump on this new band wagon, the closer we come to a future of endless possibilities. 3D printing is also an inspiring advancement that can be challenging and time demanding, but we shouldn't miss such opportunities to help shape the future. It will change education, medicine, automotive, the police and so much more. If you want a professional 3D printer with industrial strength, then the Makerbot Z18 is the printer for you and your company.
In conclusion, the Makerbot Replicator Z18 is a very intriguing and innovative product, with its massive build volume and the best price to performance ratio in its category. It brings industrial strength manufacturing power into your office and right to your desk. This printer has all of the great Makerbot fifth generation technology that gives you reliability, quality and ease of use. The new MakerBot Replicator Z18 is a beast of a printer, and rounds out our list of iReviews 2015 best 3D printers over $5,000.
Related YouTube videos: