Summary rating from user's marks. You can set own marks for this article - just click on stars above and press "Accept".
Accept
Leapfrog Xeed
Price:
$9,500
"Its price is still low enough to make it one of the first professional-quality printers available to a variety of people, communities and companies."
Back to reviews
Visit website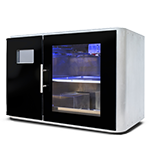 The Leapfrog Xeed is touted by Leapfrog as the 3D printer capable of the largest print volumes in its class. Being one of the top producers of 3D printing products they also, along with WASP, have more than one printer on our review lists. A company that specializes in 3D printing technology, they are a well-respected part of the industry and their printers live up to every bit of those accolades. Dual extruders, great speed, excellent precision and a very large print volume make the Leapfrog Xeed shine and stand out in a vast sea of products in the over $5,000 range. At this level, only the best is expected, and Leapfrog easily rises to that challenge.
The Leapfrog Xeed is a professional quality 3D printer for those who need top of the line quality and high speed prints. It is the perfect 3D printer for larger companies. The Xeed, powerful and durable, is one of the best quality professional-grade 3D printers available. Boasting native software, high-precision extrusion and a large build size, the Xeed is a fantastic choice for commercial applications.
The Leapfrog Xeed 3D printer produces the best quality for its price at $9,500. The Xeed was the first 3D printer to allow wireless printing. There is no need to install any additional software or hook up a computer, as it operates as a standalone as well. It features a large build size of 350x270x220 mm, in comparison to Leapfrog's Creatr XL, which is 230x270x600mm. It also features an extrusion speed of 170mm/s and produces a layer thickness of 0.012.
The new Xeed is equipped with a dual extruder for printing with two colors or two different materials simultaneously. This also means that you can print with an ABS filament, along with a soluble PLA or PVA filament that can serve as support material to strengthen the printed piece. Combining different materials broadens the range of applications for which you can use 3D printing. The enclosed heated bed optimizes adhesion of extruded filament to the print bed by causing materials to heat and cool evenly, which unlike other 3D printers will keep your prints from warping, which can happen due to the expansion and contraction during less than optimal heating processes. It also has a quick-load drawer system for easily changing the cartridge. With an XY positioning precision of 12 microns and a layer resolution of 10 microns, the Xeed will deliver professional, high quality prints with no hassle whatsoever.
When the onboard tablet receives an STL file via email, it automatically converts the file and prints the object. The Xeed is designed to add maximum value in the professional work community, permitting all engineers, designers and researchers in the same network to easily send out and queue print jobs from their own workstations. Xeed features auto-calibration and automatic filament detection, adding the capabilities of adjusting its settings to the correct printing position before each print, as well as initiating a pause when the filament runs out, so you can replace the cartridge and continue printing without ruining the project.
Print quality, consistency and repeatability are assured with Leapfrog's Perfect Level system, which calibrates the bed perfectly before each print. Quick Load functionality makes changing and loading new filament a breeze. Simply place your filament cartridge in the designated receptacle and Xeed will load it for you. The super-fast slic3r software also makes sure you will not waste any precious business time initiating your print. Its advanced settings allow you to alternate between "quick and easy" and "pro" printing, but is not for the beginner or faint of heart. If you are new or relatively inexperienced at configuring print jobs with slic3r, it is recommended that you stick with the Leapfrog software, which is designed to be significantly more user friendly and less prone to error.
Get printing and stay printing with Leapfrog's multiple avenues for support, including email, telephone, forums and knowledgebase, tutorials and FAQ's. The Xeed is designed and developed to efficiently operate and prepare the printer for an optimal workflow, which will save time and money. The Xeed also has an automatic 5 point measuring system, which will ensure the bed is precisely leveled before each print. The Xeed is able to connect via USB and Wi-Fi. The software formats supported are STL and G-Code. Xeed also features an on-board touch screen with wireless printing.
Leapfrog was founded in 2012 when AV Flexologic, a Dutch manufacturer of machines for the flexographic industry, was in need of producing prototypes and unavailable spare parts for their machines. Just 2 years later, Leapfrog 3D printers are the preferred choice for businesses and schools because their printers are not only brawny, but also diverse in that they offer lots of variety with their multiple functions and applications.
There is no need to install software or hook up a computer with this machine; as mentioned before, it has a tablet interface that makes it distinct. The downside to the Leapfrog Xeed is that it is pricy; however, but the capability of producing very high quality products easily justifies the investment if you are looking for a small business solution, or for personal use if you have means of purchase.
Its price is still low enough to make it one of the first professional-quality printers available to a variety of people, communities and companies. From individuals to small business to even research labs that are seeking a solution for in-house production of prototypes, these printers have the accuracy and speed more than necessary to meet your needs. The Leapfrog Xeed is the perfect 3D printer for so many types of settings, and is one of the iReviews top picks for 2015 best 3D printers over $5,000.
Related YouTube videos:
Embed: <a href="http://3d-printers.ireviews.com/leapfrog-xeed-review"><img src="http://www1.ireviews.com/images/2015-iReviews-silver-badge.png" alt="Leapfrog Xeed"/></a>