Summary rating from user's marks. You can set own marks for this article - just click on stars above and press "Accept".
Accept
Leapfrog Creatr Dual Head
Price:
$1,869
"Whether you are looking for a 3D printer that can tackle industrial-sized jobs, or if you are simply a home enthusiast, the Leapfrog Creatr will get the job done for a little bit more than some of the better home models offered, but still within an affordable price range."
Back to reviews
Visit website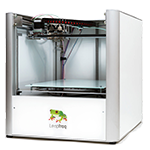 The Leapfrog Creatr Dual Head 3d printer is a sturdy, pre-calibrated entry-level offering. With its large print size and an optional Dual Extruder, printing large objects with multiple materials is a breeze. Materials and workmanship of the printer are made to last and stay accurate. Leapfrog has a passionate team of software designers and engineers that care tremendously about their customers and their product. All of these factors make for a great ownership experience.
Leapfrog, as a young company, has a few things right. You can tell their passion for technology and 3d printing from their attitude towards it. Leapfrog's continuous improvements to their products means that customer service is the way it should be. The company's website offers many documents, instructions and videos that spell out everything from unpacking to setup and the first print job. Speaking to Leapfrog's people results in a knowledgeable, productive, empowering and personable experience. Their innovative designs allow for easy access to components, which makes maintenance a snap. Leapfrog is bringing the world of professional quality 3d printing to a whole new audience, the at-home consumer.
Unpacking the unit is a breeze. Removing packing materials and the calibrated print from the machine requires a little bit of cognizance, but it is overall effortless. Leapfrog strongly recommends lifting the printer from the bottom. Instructions are to slide the printer to the back of the box and slip your arm down beside, then under the unit, lifting carefully. It is advised to not lift the printer from the box by the top plate or any of the axes. This could damage components or ruin the machine's calibration. The company's website has an instructional video on how to correctly lift and place the Creatr.
Ease of installation is a great selling point for Leapfrog because the printer is already assembled and calibrated, and use requires the download of two programs. The printer software and G-code are both available from Leapfrog's website, and can be installed before the printer arrives. After unpacking, Leapfrog estimates a 30-minute window between setup and printing your first object. The pre-calibration is a major feather in the cap, especially for beginners, who know it was completed correctly from the manufacturer by skilled technicians.
The Creatr's dual extruder makes it possible to use two different colors of filament or two separate materials at once. Why not print something in two distinct colors? Why not print with an ABS filament and use a dissolvable material like PVA or PLA for support? The Creatr is capable of doing both. A single- extruder model, that costs slightly less, can still get the job done but requires printing with a non-dissolvable support material. Having to break away support material from your printed product can leave marks and scratches on your beautiful design. For the small price difference, the dual extruder is definitely worth it.
Leapfrog has designed this machine to last. The Creatr is made of aluminum, laser-cut for accuracy. Some of the less-desirable traits of other printers, even high price-point models, are the use of veneer wood and cheap plastics in their manufacture. Wood, especially, flexes with temperature and moisture changes which, in effect, changes the dimensions of a structure. When a machine operates within such close tolerances, where attention to fine measurements is very important, even the slightest change in dimension can require recalibration. The Creatr's material list makes for an impressive, long-lasting machine.
The Creatr was designed to be able to tackle larger jobs. With a 12.4 liter maximum print volume and 230x270x200 mm build size, there is flexibility in printing options. But even as large as it is, storage or prolonged setup will not be a problem, due to its compact design. At 70 lbs, transport is not out of the question, but would require more than two hands to accomplish safely.
Other thoughtful design aspects include a heated print bed and enclosed print area. This allows for heat to efficiently remain in the print chamber. With X and Y axis speeds up to 350 mm/second and up to 60 mm/sec extruder speeds, this machine has the ability to create unlimited objects efficiently and quickly. The calculated production speed is 0.42 cm3/sec.
The Leapfrog Creatr does not use proprietary filament types. It accommodates standard 1.75mm PLA and ABS filaments that can be found just about anywhere that sells 3D printing materials and accessories. This flexibility and value when it comes to materials does indeed help to offset the higher cost of the unit over time and the savings will be seen by the time the first roll of filament is consumed. Also, Leapfrog offers filaments for sale, as they research and develop their own product, to supply customers with the best materials for their machines.
Whether you are looking for a 3D printer that can tackle industrial-sized jobs, or if you are simply a home enthusiast, the Leapfrog Creatr will get the job done for a little bit more than some of the better home models offered, but still within an affordable price range. It is for this reason that this printer has made our list of iReviews 2015 best 3D printers under $2,000.
Related YouTube videos: