Summary rating from
2
user's marks. You can set own marks for this article - just click on stars above and press "Accept".
Accept
Egnyte Online Storage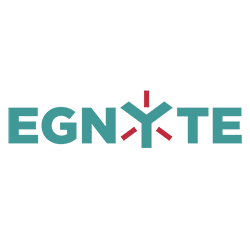 "Egnyte employs an extensive file organization system and allows you to manage things however you like."
Egnyte's list of features is tailored for business use, but has features that anyone using online storage should covet. Ease of use is amplified in file transfer and sharing, and no file size limits are placed on uploads. Enhanced security ensures peace of mind for users as well.
For Egnyte Online Storage users, uploading files is a drag and drop operation. It is simple to upload files of any type and any size; further, unlike most storage outfits, Egnyte allows for uploading multiple files. File upload is quick as well. In our tests, we were able to upload single files in a matter of seconds. Using mobile devices to access and edit files is effortless, but the interface is definitely designed for users who are tech savvy. Although flawless and smooth, the interface is extremely enterprise-centric, and will take those users who are not used to this type of programming an extra few minutes to fully grasp. The good news is that iOS, Android, and Windows devices are supported. All other devices can access the web browser-based interface. Once files are uploaded, you're on your way to organized storage space.
Egnyte employs an extensive file organization system and allows you to manage things however you like. With this set of tools, you can set who has permission not only to view files, but also govern who can create, edit and delete files. These detailed folder permissions come in handy when you'd like to keep certain people out of files containing information that is "need to know". File sharing is accomplished through the use of links, like many other storage companies. However, the ability to govern the organization of files and set user permissions is a great extra tool, especially for business use.
Egnyte's heightened security helps keep documents safe. Using 256-bit AES encryption, files are safeguarded to and from the Egnyte servers. They do not, however, give an option for users to use a private encryption key. Unique username and password protection is offered for each user. Of course, the administrator has the unilateral ability to control the access rights of everyone who shares your files. Egnyte is SafeHarbor certified, also.
Three packages are offered to Egnyte customers: Office, Business and Enterprise. The Office package is for 5-24 employees and costs $8 per user per month. The Business package is for 25-100 employees at a price of $15 per user per month. The Enterprise level incorporates custom branding options and allows for the setup of company mail servers for sending messages.
Overall, Egnyte's features are good, but are business-centric. There is very little for the private user to find enjoyable in the business-class styling and options of the service. Although any file types can be uploaded, if you wish to store and listen to music, a separate app or program would be required to play back the files. However, for those users who are looking for a great way to organize files among many users, Egnyte is a contender. With enhanced security, the ability to limit access of files to users, and the option to protect files with separate usernames and passwords for all with whom you share, Egnyte's product is good for business and worthy of inclusion on our list of iReviews 2014 best online storage services.
Related YouTube videos: