Summary rating from
2
user's marks. You can set own marks for this article - just click on stars above and press "Accept".
Accept
Tesla Model S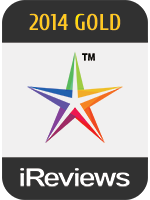 "If you are able to afford the way above average price tag, you will revel in the amazing feeling of riding in complete luxury while never having to stop at a gas station again."
---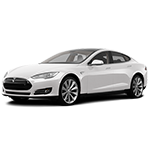 The 2014 Tesla Model S takes conventional thoughts about electric vehicles and throws them right out the driver's side window. Upon first glance, Tesla's all-electric Model S looks like a luxury sedan, with sleek styling and smooth curves. But, with a closer look, drivers will understand that the Tesla Model S undermines the competition with a vengeance. It does boast a hefty price tag, but after our research, it really seems quite worth it. With plenty of tech features and sleek styling, the Tesla Model S tops our list of the best electric cars available today.
The interior, where you'll spend most of your time, leaves a driver wanting for practically nothing. You will enjoy a very spacious luxury interior designed around the driver, with an all-glass panoramic roof, special noise engineering and a 17″ touch screen control hub. The touch screen, along with digital dashboard and steering wheel controls, puts settings and content at the driver's fingertips. Media, navigation, communications, cabin controls and vehicle data are all present and keep the driver integrated with the vehicle in a way that goes above and beyond most others. An optional covered premium center console adds a luxurious yet functional storage option, with room for large water bottles, non-slip phone deck with cord pass-through, a sliding cover, and removable dividers. Along with luxury, drivers will appreciate a great deal of functionality, with 58 cubic feet of storage in the cabin (an extra 5.3 available under the hood), two USB ports for charging your small electronic devices and a rear-facing children's seat option in the back hatch, optimized for safety with five-point harnesses. The rear-facing bucket seats fold flat when not in use. The roomy interior allows for five adults, and with optional rear-facing seating, two children can be added to the list of passengers.
Paired with such a luxury interior, the beauty continues on the exterior with a sleek and finely engineered auto body. Drag reduction, which increases the vehicle's range by reducing the amount of effort required by the electric motor, was a main goal in every step of the design and engineering of the Model S. The door handles, when not in use, retract into the body to increase airflow, an absolutely amazing feature that we hope to see on other cars of the future. "The Model S epitomizes efficiency, embodying the grace and performance of a world-class athlete," says Franz von Holzhausen, Chief Designer. "Its sculpted form expresses a constant state of speed and motion." Drivers and passengers alike will love the all-glass panoramic roof, constructed from lightweight safety glass, which is controlled by the touch panel and blocks 100% of UV rays and 81% of heat, making it quite the amazing and comfort building feature. A charge port, uniquely hidden, opens when a charging connector comes in proximity to the driver's side taillight. Proximity features are also included in the Model S's key fob; the handles appear and unlock when you walk up to the car with your key in hand, and the engine starts when you fasten your seatbelt. While some may think of these features as frivolous, we can't deny that Tesla is setting standards for other cars of the future, and both the convenience and "wow factor" are simply undeniable.
The auto's body is not all beauty and aerodynamics, however. The aluminum body structure is rigid yet light to increase efficiency by reducing overall weight. High-strength steel and expertly-joined components are used throughout to improve safety. With no combustion engine present, the front of the car is engineered to improve passenger safety. The "crumple zone" is assembled with straight double-octagonal rails running along the bottom of the structure, which are designed to absorb the energy of impact. The car's battery underlies the passenger cabin and is joined to the structure of the automotive, which improves center-of-gravity and rigidity. The liquid-cooled battery cells are protected from overheating, as well as spillage, in the event of an impact. Further, the battery disconnects electricity from the motor in an impact scenario. With airbags throughout, the cabin has earned the coveted Five-Star safety rating, with five stars in each category.
The Model S comes in three versions. These models range from the 302-HP base model to their performance model, which boasts a powerful 416-HP and an awesome 265 miles of range. Considering most electric cars max out at an 80 mile range, Tesla is a force to be reckoned with under the hood. With the performance model, a driver can experience 0-60 MPH in a mere 4.6 seconds and the engine has 443 ft-lbs of torque. Since the engine has only one moving piece, a rotor, the whole ride is seamless and smooth with instantaneous power. The Model S comes with an impressive warranty on their battery that far surpasses other electric cars currently available. The base model offers 8 years or 125,000 miles, while both the middle and performance package keep the same 8 years but upgrade to unlimited mileage. Charging difficulties and proprietary plug-ins tend to be an unfortunate trend for other electric cars, but Tesla has made it easier for their drivers by including a regular plug-in ready to connect to 120 and 240 volt outlets found practically anywhere, and also an adapter for car charging stations that are popping up more frequently in recent years. Charging is also very quick, and a full cycle can be completed in about 8 hours, with 80% charging achievable in only 4.
If you are able to afford the way above average price tag, you will revel in the amazing feeling of riding in complete luxury while never having to stop at a gas station again. With features and technology straight out of a sci-fi film, the Tesla Model S is currently the top standard in the electric car market. While that alone makes the car worth the asking price, the sleek styling will make just about anyone's head turn as you pass. Suffice it to say, this is definitely the car of the future, and the iReviews top pick for 2014 best electric car.
Related YouTube videos: