Summary rating from user's marks. You can set own marks for this article - just click on stars above and press "Accept".
Accept
T.Ware T.Jacket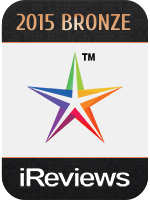 Pros:
1. Scientifically proven concept.
2. Blends perfectly with everyday use.
Cons:
1. Needs constant monitoring by the user.
2. Will take some time to get used to.

---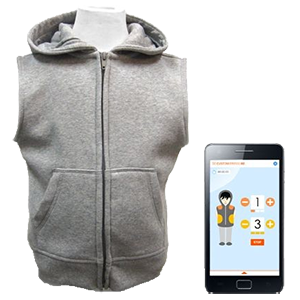 The T.Ware T.Jacket is an interesting concept that provides virtual hugs in real life. This wearable vest provides deep hugs to comfort or calm stressed or anxious people. The vest makes use of customizable air pressure compression that is controlled via an Android or iOS device. There is a built-in sensor in the vest that monitors whether the user is standing, walking, sitting, running or rocking. By keeping track of the arousal level of the user, the vest will make sure that the user's arousal regulation is kept within the optimal band. By collaborating with researchers, professional therapists, educators and clinical psychologists, the vest was developed to help over-responsive or sensory seeking people.
Children or adults with medical conditions like Attention Deficit Hyperactivity Disorder (ADHD), Autism Spectrum Disorder (ASD), Sensory Processing Disorder (SPD), Alzheimer's, Dementia or depression often have to go through stress, restlessness, anxiety, sensory overload, etc. These result in short attention span, sleeping disorders and meltdowns. As a result, children and adults alike cannot participate in fine motor, seated and long-time activities. They also display certain behaviors that are not widely acceptable in our society. Therefore, integrating with the regular settings is a challenge for these people. The deep touch pressure of the T.Jacket can be very helpful in these situations.
The T.Jacket could be helpful for sensitive children or adults in settling down and improving their attentiveness during special activities like writing, drawing, reading, meal times, therapy sessions or other activities requiring fine motor skills. It could also help over-responsive people to calm down and take control in stressful situations like crowded places, public transport, restaurants, etc.
The firm holding of the vest works as a focusing or soothing agent to increase happy hormone levels and decrease blood pressure and heart rate, which will decrease stress and anxiety. The comfortable pressure will also release dopamine and serotonin in the brain. These will create a sense of calmness in the nervous system of the user. The T.Jacket's role as a soothing agent will be useful for people who are suffering from severe anxiety, chronic stress, unrest or mental instability. By helping them to calm down, the deep touch pressure will improve their ability to manage anxiety and stress. The vest can play a crucial role in ensuring a better life by providing the users with more control of their behavior.
Controlled by the accompanying app, it is possible to customize the pressure pattern, duration and intensity of the vest from anywhere. The app interface is very simple and intuitive. Besides the automated presets, the pressure level can be set at standard or dynamic levels. The app will provide you with 5 pressure levels to choose from. Depending on the moods and needs of the user, any level can be applied simply by pressing a button in the app. That means you can experiment with different levels to find out the perfect pressure level. However, it is recommended that you start with a lower level and then gradually increase the pressure. This process has two distinct advantages. Firstly, the user will not get too used to the pressure level that it becomes ineffective; and secondly, you will enjoy longer attention periods.
Easy portability is a strong selling point of the T.Jacket. As the vest looks like regular clothes, you or anyone else won't feel anything unusual and it is appropriate for everyday use. T.Jacket applies pressure in the most convenient and effective way possible, which is perpendicular to the body. This creates the same surrounding pressure that is received in actual hugs. As T.Jacket uses air pressure to create comfort, it is especially suitable for children. Unlike the traditional weighted products, this vest will not hamper the developing skeletal system of the child.
Instead of using heavy weighted vests, T.Ware has used an intelligent air-pump system that makes the vest light and convenient. Without any awkward device or anything extra, the jacket can be used anywhere and at any time without attracting unwanted attention. The company suggests keeping the pressure duration between 15 and 30 minutes. It is also recommended to have a gap of at least 2 hours between applications. Detailed information about the usage of the vest is saved in your T.Cloud account. The saved data can be viewed, shared or analyzed at any time. The battery is placed in a convenient location to facilitate easy and fast charging. As the electrical parts can be removed from the jacket, it is completely washable too.
T.Ware's development team includes designers and engineers with years of experience and expertise in the fields of wearable technology. Based in Singapore, T.Ware was founded in 2011. With its user base spread all over the world, T.Ware has a mission to design and develop modern, innovative and useful technologies to further expand the human experience. Along with ongoing research for new solutions, T.Ware focuses on improving its existing products too, and this product is definitely worthy of inclusion on our list of iReviews 2015 best smart apparel.
Related YouTube videos: