Summary rating from user's marks. You can set own marks for this article - just click on stars above and press "Accept".
Accept
Storm Drone 6
"The Storm Drone 6 is one of the more impressive looking and one of the most functional drones on the market today."
---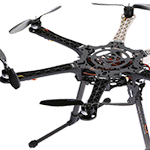 A popular drone that is used by more and more people lately is the Storm Drone 6. The Storm Drone 6 is a compact drone that is designed for capturing pictures and videos from an aerial view. With a flying drone, you can take photographs or videos from an elevated point of view, which is ideal for some people who enjoy having scenery and panoramic views in their photo albums or videos. If you can use this kind of technology well, you have separated yourself from other photographers and videographers, adding to your many skills as a professional photographer or videographer. People are more willing to hire you and send more business your way after seeing your work. The excellent design, many abilities, great home company, and user feedback make it a great drone to use for photographic enthusiasts and professional alike.
Access to complete control at your fingertips is expected when it comes to this drone. The Storm Drone 6 is a remote and GPS controlled device. It measures 21.65 x 21.65 x 11.02 inches and weighs 2.75 pounds. The drone has six extensions, with a propeller on each one, as well as two landing legs. Under the device, between the landing legs, there is a camera mount and above (at the top of the drone) is the battery mount. Having the camera and battery on opposite sides maintains the balance of the drone and keeps it from becoming lopsided and losing its luster. The drone comes with its own camera, which can be replaced by one of your own choice if you desire, that takes pictures and records the flight path that the drone has taken.
It has six LEDs, four that are white and line the front of the drone, and the last two that are red and line the back of the drone. The battery is an 11.1 Volt 2500 mAh 28c Lithium Polymer (Li-Po) battery pack, which comes standard with this model, and lasts four minutes. If you purchase the 11.1 Volt 5500 mAh 25c battery pack, you get an extended flight time that lasts about 10 minutes. Both batteries are available online from the same supplier. The drone is controlled remotely by the DEVO 7. The remote control is trapezoid shaped and makes the controls smooth, offers improved programming with better interfacing capabilities, including 15-model memory, and comes with an online update function which allows you to download the latest program and keep up to date with new developments. The design is clean and the Storm Drone 6 looks like a hard working and tough device.
The drone's small size should not keep a great product like this down and luckily the Storm Drone 6 packs a powerful punch to compensate. It has a range of 1.9 miles and comes with features that make a world of difference when it comes to your flight experience. The first feature is "Easy to Control" which helps the drone stay floating in a single spot mid-air. "Auto Go Home" is accessed when the transmitter is turned off, which commands the drone to automatically return home. "Home Lock" places a signal in a single spot that can be created as a home base location. If the location is set as the home lock position, the drone will always return to that spot no matter where it may end up. As the drone flies, and you are capturing pictures and videos, to avoid seeing the motors, blades and landing gears in your pictures or videos, you can mount the camera in a specific way. If you place it forward, simply select medium or narrow mode in place of the wide angle view and adjust the angle of the camera. You can take better and clearer pictures without having interrupting pieces of machinery blocking the camera's view or adding an unattractive, unwanted element to an otherwise breathtaking photograph or video. With practice, you can have crystal clear and sharp results each time. This is a small sample of what the Storm Drone 6 can do and you should definitely try it for yourself.
The HeliPal Company ships a variety of products like the Storm Drone 6 all over the world and they do the best they can to take care of their customers. Before they send out a Storm Drone, they check and calibrate every single one to ensure the best possible condition and performance for each drone. In the event that your drone arrives damaged or defective in any way, HeliPal will replace the drone or issue a refund after they receive proof that your drone was sent to you damaged. This company makes customer service its number one priority.
While it may be a new device to you, many people have known about the great things that the drone can do. The Storm Drone 6 has been on the market for a while and has generated a lot of positive feedback. The design, reliability and user experience are rated very highly. At $658, it is one of the more affordable drones, as well as one of the best drone to start out with if you are looking for an inexpensive place to begin with this type of technology.
The Storm Drone 6 is one of the more impressive looking and one of the most functional drones on the market today. It is mainly intended for people who have used drones before and are comfortable with the technology, but the learning curve is still pretty short for those who are more technically inclined. It adds a touch of flare to any household, and also gives you knowledge of technology that is readily becoming available in everyday life. With positive reviews and much to offer to you, the Storm Drone 6 is a great drone to own and a great addition to our list of iReviews 2014 best drones.
Related YouTube videos: