Summary rating from user's marks. You can set own marks for this article - just click on stars above and press "Accept".
Accept
ShapeGrabber Ai810
Price:
Contact
Pros:
1. Fast and accurate
2. Scans large objects
Cons:
1. Rated primarily for injection-molded plastic components
2. Very large unit that takes up a lot of space
Back to reviews
Visit website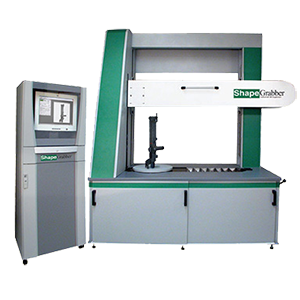 The ShapeGrabber Ai810 is a large object 3D scanner designed to accurately and quickly scan plastic injection molded automotive parts. This scanner was made specifically for that application, since the vast majority of automobile parts that are made are in that material. As we have said before, some products are designed to fit the needs of a wider customer base and some are designed to accommodate a certain niche. While this is definitely a niche product, we are sure that there are other industrial applications that can be found for this wonderful device.
ShapeGrabber's scan heads are 6th generation models, which means they have been improved at least 5 times over to increase speed, accuracy and reliability. The Ai810 supports a fully automated process that is programmed to be simply and easily operated with minimal training. Designs are fully verified and documented, and with a simple push of a button, you can deem the inspection as a pass or send it back to production for rework. The inspection process takes mere minutes, so a very large amount of inspections can be completed and documented in even the highest volume production environments.
The Ai810 can scan an object up to 125 centimeters long (4 feet) and that data can be acquired at a rate exceeding 350,000 points per second. The scanner utilizes CDRH Class II and IEC Class 2M lasers, which are some of the most powerful and precise in the industry. There are also various types of reports that can be printed, such as color error maps, fly-out boxes, tables, cross sections and GD&T. Those reports can be saved in Excel, Word, HTML and PDF formats. ShapeGrabber does everything they can to make the inspection process simple while maintaining quality and superb documentation.
ShapeGrabber has been dedicated to producing quality 3D scanning products for many years, and their dedication to customer service is shown in their willingness to design and quote custom applications that are tailored specifically to your own unique needs. Their technology is so trusted, in fact, that ShapeGrabber scanners are used by such giants as Ford, General Motors, Toyota, Honda and MPC, to name just a few. These major manufacturers depend on scanners like the Ai810 to consistently and quickly provide quality automotive parts to the public, preserving a high standard of safety as well, ensuring that millions of people can trust those vehicles to transport their loved ones from Point A to Point B.
One of the more impressive aspects of the scanners in this line is the intuitive touchscreen interfaces. Located conveniently at the side of the machine, a number of user inputs can be executed, allowing for totally automated scanning at the push of the "Go" button, access to different menu settings, adjustment of calibration settings and access to the various generated reports. An operator with minimal training can, with a reasonable amount of repetitive motion skills, produce hundreds of inspections per day with much better detail and assurance, compared to traditional methods of using calipers and slow CMMs.
No matter what type of part you want to scan, and what size of operation you are running, the ShapeGrabber Ai810 will be more than sufficient for your needs, and more than sufficient for inclusion on our list of iReviews 2015 best 3D scanners over $50000.
Related YouTube videos: