Summary rating from user's marks. You can set own marks for this article - just click on stars above and press "Accept".
Accept
ROBO 3D R1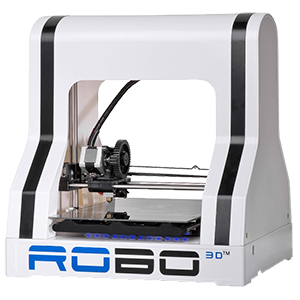 The ROBO 3D R1 is one of those printers you occasionally see that has a great amount of potential. The company built this 3D printer with just that idea in mind: potential. Their goal is to provide a solution that not only fits the bill according to current standards, but also has the ability to be upgraded easily and affordably as those needs change and evolve. It is that type of forward thinking and ingenuity of design that has piqued our interest when it comes to this offering from ROBO 3D.
The design of the ROBO 3D R1 is very simple and you won't find it to be as shiny, symmetrical or even as stylish as some of the other printers you will see on our lists. Although not ugly by any means, there is a very basic and simple look to this printer that makes the company's mission even that much clearer: that they are about functionality far more than just looking pretty. This isn't a bad thing by any means, though. Although it is an extra bonus to have a sleek and stylish looking device, which helps us to feel that the money we spend on one is that much more justified, ROBO 3D makes it abundantly clear that the quality you get out of their printer is well worth the money you spend, and that alone should be enough to justify the expense of a printer that is capable of producing results like this one does.
This 3D printer is one of the smaller ones in its price range, producing a print job as big as 10 x 9 x 8 inches (25 x 23 x 20 cm), which is quite adequate for the $799 price tag for their fully assembled and calibrated model. A heated printer bed also allows for printing with more than just standard filaments, broadening the applications significantly with additional compatible materials such as PLA, ABS, Taulman filaments, Laywood, HIPS, flexible materials and more. Add a layer thickness of down to 100 microns and you can add more than adequate quality to the list of possibilities, making this a well-rounded offering for the price.
The printer also comes with the capabilities of printing from an SD card, which means you can save your design file on a card, plug it into the printer and print directly from memory without having to be connected to a computer. Although there are some concerns about how this would work without being able to make tweaks through software first, they assure us that with the right file format, this won't be a problem at all. If you wish to use software, however, a USB interface connects their printer to your computer just like any other type of printer, allowing you to have more control of the processes through any software you like.
One of the features that really grabbed our attention was the ability to upgrade certain parts in the future. ROBO 3D mentions openly on their site, where their technical specs are displayed, that the design allows for swapping of parts at a later date. Not only does this allow you to be sure that your investment won't be totally obsolete as technology advances, but it will also allow you to keep up with those advances in a way that will save you a considerable amount of money. It also provides them with a means to gain repeat business if they choose to sell these upgrades themselves. With these capabilities for expansion, you can not only add upgraded parts later, but you even have the option right now, through their software, to pause print jobs and change filaments for multiple-color and multiple-material printing. This is a big advantage over other printers that just have one extrusion head.
They also include a 6 month parts-only warranty as part of the sale, which is a good thing in most cases. Unfortunately, there have been a lot of reports in the past year of assembly quality issues such as easily detachable crimp connectors on wires, flimsy assembly of framing and rails, and even inability to print at all after 4 or less jobs. There isn't very much additional information out there to know the true nature of these issues, or whether or not they have been resolved, but if quality continues to be an issue here, having to pay for labor on a limited warranty might be a discouragement when it comes to this product. The demos, however, look really good and have produced some great looking results, so hopefully these quality issues we have seen are a few isolated incidents and not a serious concern. This is a very promising product that has a lot of potential in a quickly growing market and conquering that market will require superb quality in both design and assembly.
Regardless of the mixed reviews we have seen, we have found this printer to be an excellent up and coming piece of technology that might just be able to take the 3D printing world by storm, or at least make it stand up and take notice. For this reason, as well as all of the other wonderful features offered, and the seemingly endless possibilities, we are glad to place this printer on our list of iReviews 2015 best 3D printers under $1000.
Related YouTube videos:
Embed: <a href="http://3d-printers.ireviews.com/robo-3d-r1-review"><img src="http://www1.ireviews.com/images/2015-iReviews-bronze-badge.png" alt="robo 3d r1 iReview"/></a>