Summary rating from user's marks. You can set own marks for this article - just click on stars above and press "Accept".
Accept
PHTL Hot Edge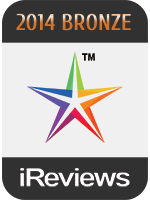 "With its great value and unique features it is a deal worth checking out and worthy of inclusion on our list."
---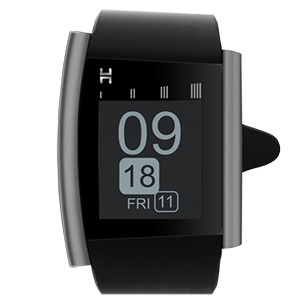 The PHTL Hot Edge is the hottest smart watch around. It is one of iReviews 2014 top pics for smart watches, as it is one of the best value smart watches on the market.
The Hot Edge is a smart watch that works with iPhone, Android and Windows Phones. This feature-rich device will put all of your critical apps on your wrist where they are easily manageable. It also has a touch screen with a very user-friendly interface. This sharp-looking watch eliminates the need for you to handle your phone for minuscule tasks, such as Facebook, email, Twitter, messaging, and even making and receiving calls. The watch will vibrate, make a sound, and has a backlit screen to let you know that you have a notification.
The Hot Edge uses a 1.26″ Sharp e-paper display, protected by Gorilla Glass 3. It has a battery life on average of up to three days. It contains an energy efficient Cortex M3 Processor. It is able to connect to your smart phone via Bluetooth 4.0. It also has a speaker and you can also control music through it. It has an LED flashlight as well. It also has weather, stopwatch, timer, alarm, and calendar alert notifications to help you stay on track.
The Hot Edge is the supermodel of appearance in the fact that it is very slim; it has a case diameter of 54mm and a case thickness of 8mm. The wrist band width is 24.4mm. It has a sleek design that is sure to match any style or outfit. It is even water resistant so you can lounge by the pool without worrying about damaging your watch or your smart phone. It has anti-reflective glass with optical bonded display for high contrast sunlight readability and smudge proof touch glass. It also contains a multi-touch projected capacitive screen with proximity detection of up to 1cm.
The Hot Edge has gesture support built in so you don't even have to tap on the screen if you do not care to. With its simple and easy to use gesture control you can simply move your hand for accepting or rejecting a call. Even unlocking the screen or placing a call on mute can be done by hand gestures. The Hot Edge uses patented Hands on Talk technology to transform your palm into a phone. It has a six axis accelerometer and gyrometer sensors built in.
The Hot Edge stands out from other smart watches in the way you are able to interact with it. You can draw virtual letters on the touch-screen display to access key watch structures. By simply creating a letter D on the screen pulls up the dialog menu so you can review recent call or view the list of contacts. By simply dragging your finger from the top left corner to the bottom right will enable you the menu command for going back.
The Hot Edge even comes with an SDK and Windows simulator for custom app development. Using Windows simulator, inventors can generate applications on a PC environment using Visual Studio or any windows compiler and port it in a simple, one-step accumulation. This exclusive tool can greatly augment the power and speed of app development for the watch. People that do not have any programming experience can create custom watch faces and simple apps by downloading jpg/bmp images into the provided tool. More significant control is provided for programmers via SDK with 'C' language support. Control will be provided to access watch hardware and communication to smart phone.
Where things get really incredible though, is when you plunge into the Hot Edge's call-handling gestures. You can dial a number or answer a phone call right from your wrist. When a call comes in, you can answer it by simply raising your arm and cupping your hand over your ear. From there a directional speaker begins to pump audio along the line of your forearm. A microphone on the watch band also picks up any words you say. The inkling here is to have a private conversation without having to place a finger on your phone. In order to end calls simply twist your wrist as if you are waving goodbye to someone. If you choose not to answer a call you can reject it by carefully making a clenched fist and twisting your wrist.
The Hot Edge performs many other functions too. There is a "find my phone" feature that warns you when your phone travels away from you or vice-versa. Your watch comes complete with a pedometer that can even be used to monitor your activity throughout the day or while you are out running. There is even a "fall detection" mode that will send a text automatically to a predetermined contact if the watch thinks you've fallen down and need assistance.
The PHTL Hot Edge smart watch comes at a reasonable price of only $169. With its great value and unique features it is a deal worth checking out and worthy of inclusion on our list of iReviews 2014 best smart watches.
Related YouTube videos: