Summary rating from user's marks. You can set own marks for this article - just click on stars above and press "Accept".
Accept
Parrot Jumping Sumo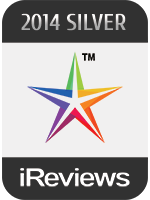 "For a drone, as opposed to a personal robot, the Jumping Sumo has the option to offer you a fun kind of driving game that can be purchased by anyone, regardless of your budget."
---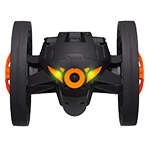 The Parrot Jumping Sumo is a small drone that allows you to jump higher than other devices and it provides a few games that come standard with its package. This drone is different than the standard drones that you see for personal use today, but also resembles a personal robot in some of its capabilities, namely the ability to interact with you through games. The Jumping Sumo comes with extensive drive ranges and sensors, is controlled by an iOS device, and allows for you to enjoy two types of piloting systems.
The features that come with the Jumping Sumo make it stand out in the crowd of racing drones, which is why we have chosen this particular model as one of our top picks, despite the fact that it is a ground drone, while the rest of the selections are flying drones. It can perform beautifully within the range that the Jumping Sumo can travel, which is approximately 160 feet in any direction. The built-in accelerometer and gyroscope sensors help keep it steady as it jumps almost 3 feet high. It also supports dual-band 802.11 AC Wi-Fi. It comes with an integrated camera to allow you to see exactly what it sees and the path that it has taken. The Jumping Sumo streams the video that it captures onto the tablet with which it is connected. The cool thing about the streaming video is that you can watch it again and see where you can improve your driving. The wheels of the Jumping Sumo are ambidextrous, which means that it can move around no matter which way the drone is oriented. This is really beneficial to the user experience, as it can keep moving no matter which way it lands, and it can keep the game going. It is really cool in its own special way.
The Jumping Sumo can only be controlled by an iOS device, which includes iPhones and iPads. It can be used as a game for the whole family to take part in and enjoy. It is also autonomous, which means that it can follow a path that has been pre-programmed on its own without being controlled by you. If you create a path and have it programmed, the Jumping Sumo will take the path without any human assistance. The elaborate technological advances that the Jumping Sumo comes with sets it apart from the rest of the land drones in the market and it makes it stand out in the drone market overall.
It costs approximately $160, but since it is an intricate piece of work, it makes sense that the price point would be a little higher than expected for what some people would consider little more than a remote controlled racing toy. However, it is important to bear in mind that this is the first generation of this product to become readily available to the general public, so future developments may mean that the price point for the product will go down steadily. Since it opens itself up to a different kind of system, it is expected to be the front runner for a little while. The games that it offers are uncomplicated to play, and it is also able to record its adventures, so you can watch what it does in a first person view, which adds to its unique and fascinating user experience.
The two piloting experiences that the Jumping Sumo comes with allow you to experience the high speeds that it can achieve, as well as its capabilities of retraction into compact mode. The adjustable wheels offer great speed with high stability, which ensures that it maintains perfectly straight paths and extreme turns. The compact mode allows the Jumping Sumo to enhance its agility and drive through narrow areas, which means that the Jumping Sumo is able to control itself while riding around, giving you control over the direction and speed that it maintains without having to worry about potentially destroying it if you look away for a moment. It is a lot of fun to watch as it is very maneuverable.
For a drone, as opposed to a personal robot, the Jumping Sumo has the option to offer you a fun kind of driving game that can be purchased by anyone, regardless of your budget. It can offer a smaller window of closure between human and drone interaction. Unfortunately, it is not as complex or as forward moving as other personal drones that are capable of much more and are considerably more sophisticated. However, for the racing drone enthusiast, this is a great product to look into and a great stepping stone into finding out what else is being done by these corporations to utilize newly found and newly ready technologies that we can tap into and harness for forward movements. It will be fascinating to see what else the Parrot Corporation comes up with in the near future, but in the meantime, the Parrot Jumping Sumo is a fitting inclusion in our list of iReviews 2014 best drones.
Related YouTube videos: