Summary rating from user's marks. You can set own marks for this article - just click on stars above and press "Accept".
Accept
Matter and Form 3D Scanner
Price:
$579
"The Matter and Form 3D Scanner can make a great addition to your office, studio or hobby area, and fits in well with all of your other 3D tools and toys."
Back to reviews
Visit website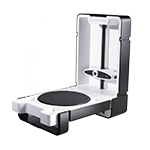 The Matter and Form 3D Scanner is the first crowd-funded scanner of its type. The fully-encased, portable unit is one of the market leaders in the transition of 3D printing and scanning from industrial and commercial use to personal use. Matter and Form's scanner features a moving camera head, a turntable-style scan bed, and very flexible software for the user's convenience. It's so impressive that it was nominated for Best Consumer Product by the London 3D Print Show this year.
Matter and Form (formerly Matterform), was started by a group of designers and programmers who needed but couldn't afford a high-resolution 3D scanner. They began designing and testing their own 3D high-res scanner, determined to help others do more in their creative, professional and recreational lives. To fund the project, they launched one of the most successful Indiegogo campaigns in Canadian history, raising nearly $500,000 in the spring of 2013. The company has recently launched its Approved Reseller program and has signed non-exclusive distribution partners worldwide. Their diligence has paid off, as their 3D Scanner has recently begun shipment, making it available for immediate order.
The 3D Scanner's features make it a great fit for the consumer market, without cutting corners in quality or usability. One standout feature is the scanning apparatus. It pairs a moving camera head with a 360-degree rotating platform. This system makes for very accurate scans in a matter of minutes. The high-definition, dual laser camera head is a CMOS (Complementary Metal Oxide Semiconductor) sensor. CMOS sensors are low cost, offer low power consumption, and are easier to put into smaller designs. Although CCD sensors are the highest technology in scanning, the CMOS sensors are not as low-rent as they once were. The use of a CMOS sensor facilitates the Matter and Form 3D Scanner's ability to be compact and portable, while accurately scanning at a reasonable price point. The camera moves about the Z-axis and scans as the object that is being scanned rotates on the platform, giving you a true 360-degree scan.
The detail of the scans rival that of much more expensive scanners, offering users a 0.25mm size and detail margin. Designed not only for accuracy but speed as well, the 3D Scanner can produce scans in as little as five minutes. High-definition scans can be completed in as little as ten minutes. The dual laser camera head collects 2000 capture points per second, detecting any nuance on the surface of your scanned object, and produces for you a real-time point cloud. The 3D scanner can also collect color information along with its high resolution scan data. An impressive scan size is also a great feature, allowing you to digitize items up to 190mm x 190mm x 250mm and 180mm in diameter.
Matter and Form software is very flexible and consumer-friendly. The software, called Matter and Form Scan, works with Window 7 or greater and Mac OS 10.7 or greater. It produces scans in STL, OBJ, and PLY formats, making it easy to use your scans for many types of applications. In fact, the 3D scanner can be used to collect data for any 3D printer that you own, or any printer that you decide to purchase in the future. Furthermore, the data can be used in many other applications, such as game development. Matter and Form Scan offers custom software meshing applications, creating water-tight meshes for your scans, making them ready for printing. The Scan software is easy to download, obtainable from the company's website, and the special code to access the software is included with your order.
The most awesome feature of the 3D Scanner is that it is lightweight, portable and easy to stow. The Scanner is the only one of its kind to come with a fully-integrated protective case. The case protects the rotating bed, Z-axis and camera head very well, and adds a sturdy level of modern attractiveness to the unit. Open the case and the Scanner folds out into the service position. Close the case and your lightweight, easy to carry Scanner is ready to go places, or simply be stowed around the home.
The Matter and Form 3D Scanner can make a great addition to your office, studio or hobby area, and fits in well with all of your other 3D tools and toys. After an easy, one-time setup, you are ready to begin creating accurate scans of objects. The unit arrives at your door fully-assembled and thoroughly tested by techs at Matter and Form. Its convenient features and software allow for users of all skill levels to use it for many types of applications.
In the growing 3D scanning and printing field, users are coming up with new ways to use the technology daily. Matter and Form's 3D Scanner puts the power to join the 3D revolution into your hands, affordably, with a retail price of $579. Overall, the 3D Scanner embodies the new culture of 3D printing and scanning by making such an accurate and flexible tool available to consumers and professionals alike. Due to its portability and flexibility as a consumer product, it has earned a spot in the iReviews list of 2015 best 3D scanners under $1,500.
Related YouTube videos: