Summary rating from user's marks. You can set own marks for this article - just click on stars above and press "Accept".
Accept
Makerbot Digitizer
"Overall, the Makerware Digitizer is a great product for consumers, yet lacks some of the features of other 3D scanners on our list."
---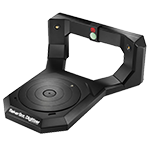 The Makerbot Digitizer is stepping out into a brave new world; the 3D printing market has taken off, and the 3D scanning market has arrived. Makerbot's 3D printers have been a success, according to the company, and now they have moved to offering a 3D scanner that is as easy for consumers to obtain and use as their printers. The Digitizer is certainly easy to use, easy on the eyes, and engineered to be durable and stout. As far as scans are concerned, the Digitizer can be hit or miss, but overall, it accomplishes its goal.
Makerbot is one of the biggest rock stars of the 3D printing and scanning industry. In fact, their 3D printer, the Makerbot Replicator, has been heralded as an excellent product that has opened accessibility of the 3D printing world to consumers, making the technology available to more users who would not otherwise be able to afford to pick up such a hobby. Makerbot should be no stranger to our readers, because it has been featured on the iReviews 2014 list of Best 3D Printers Over $5,000 with its Replicator Z18. Makerbot strives to offer products that consumers can afford and use, and is a pioneer in this jurisdiction.
The Makerbot Digitizer is a self-contained desktop 3D scanner with those types of implications in mind. What is lacking in features and software is made up in simplicity and ease-of-use. The Digitizer is able to scan all types of objects, within certain limitations. The turntable and scanner combination can handle anything that fits into an 8in x 8in cylinder, as long as it is over 2in high. Also, the turntable can only support about 6.6lbs, so keep that in mind before trying to scan that giant cast iron yard gnome.
The camera works best when scanning ceramics, clays, and non-glossy plastics, but with a little baby powder, you can make darker, glossier items work. Two eye-safe class-1 laser line generators and a 1.3 megapixel CMOS image sensor come together to record around 200,000 triangulations per model, and can create an image file with +/- 2.0mm dimensional accuracy. Paired with 0.5mm detail resolution, the images are not the best we've seen, but a pass is given due to the price range and age of the market. With an average scan speed of 12 minutes, the Digitizer is not the fastest scanner we have reviewed, but shouldn't be categorized as slow, either. A 0.9 degree step-angle motor with 1/16th microstepping rounds out the unit, making your unit capable of getting the best of all angles.
The frame of the Digitizer seems to be engineered with some high standards in mind. Its body is made of PC-ABS (polycarbonate acrylonitrile butadiene styrene). PC-ABS is a commercial material with balanced impact, flow and heat properties and is used for thin-wall molding. The molded black body is sleek, with clean, architecturally futuristic looks, crossed with a 70s-like vibe. (Maybe it's the turntable.) Other than a cancel button and the Makerbot logo, there is little else to feast your eyes upon concerning the frame. The machine does have USB connectivity, and a port is easily accessed.
From the jump, the Digitizer is easy to use. It arrives at your door, fully assembled and inspected, and is almost ready to begin scanning your objects. First, however, you must accomplish the calibration task, but it is nothing to dread, other than it being the only thing in your way of using your new equipment. The calibration tool is included, and is reminiscent of a sawhorse with a checkerboard attached. The software walks you through the process, in which you calibrate the camera first, then the turntable.
The easy-to-use software is touted as a two-click operation. This is almost true, after setup is complete. The software has a few presets, which aid in its use. One of these presets gives the choice of light, medium, and dark, which allows you to adjust your material based on how difficult it will be to scan. The aforementioned cancel button allows you to cancel scans when they go horrendously awry. Keep in mind some of the standing rules for almost every 3D scanner, like using a non-cluttered background and staying away from certain types and intensities of light. Doing these things and others can help keep your scans from being blobs of mesh.
The camera can only do so much, and the software steps in to help it out. Using complex algorithms, the system interpolates missing information, while reaching out and "grabbing" important elements. Some of the software's interpolations can be rather unique. Sometimes, however, it gets it right and impresses you with a clean object. For those unique scans, a cleanup will have to be accomplished, but will have to take place in a third party program, since Makerware for Digitizer does not support such actions.
For many scans, however, it is often best scrap it and try something else out. When it's going well, the Digitizer can create clean, watertight 3D models. These models are put into STL or THING formats, which can be easily used in most any program or with most any 3D printer. Of course, it would have been foolish of Makerbot to not make the files work seamlessly with the Replicator 3D printer. The coolest part of the Makerware for Digitizer software is its MultiScan technology, which allows you to make multiple scans of an object from many angles. This allows you to find and scan hidden parts that would not be available to the scanner otherwise. Then, you can merge different scanned views, creating a full-object scan. With some polishing, this software has the guts to make 3D scanning superbly easy for consumers and hobbyists.
Overall, the Makerware Digitizer is a great product for consumers, yet lacks some of the features of other 3D scanners on our list. The most excellent feature is its ease of use, not its scanning abilities. Originally $1,400, the Digitizer can be purchased for around $750 through some retailers. A price drop of roughly 40% has not been explained, but for enthusiasts, the hope is that Makerbot has released a new version of the Digitizer on the agenda. Its simplicity in scanning could definitely be the starting point of a product that, with improvements, could take the consumer and entry-level market for its own. The Makerbot Digitizer rounds out our list of iReviews 2014 best 3D scanners under $1,500.
Related YouTube videos: