Summary rating from user's marks. You can set own marks for this article - just click on stars above and press "Accept".
Accept
Fuel3D Scanner
Price:
$1,250
"Overall, the Fuel3D scanner is an excellent product that is doing its best to break the 3D scanning and printing market wide open."
Back to reviews
Visit website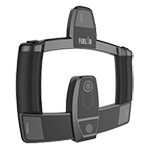 The Fuel3D Scanner is another portable scanner taking the market by storm. While Fuel3D's 3D scanner is not the most affordable unit we have reviewed, its impressive specs and versatility have earned it a place on our list. This impressive point and shoot device takes stunningly crisp images and, with its easy to handle grips and controls, it seems much easier to use than even an ordinary camera or cell phone. A stereo camera lens system takes accurate 3D scans and converts them with a user-friendly interface. The Fuel3D scanner offers the ability to make high resolution, full-color scans in a handheld, easy to use device.
Fuel3D, the company, states that their device is able to scan a 3D surface consisting of a large number of physical and color measurements, which can then be viewed from any direction, edited and used as source material for 3D printing or for on-screen manipulation. While this is the general idea of 3D scanning, Fuel3D claims to do it just as well as the $14k scanners existing on the market, all for a much smaller price.
Fuel3D, the hand-held scanner, makes it pretty easy to take any object of any size and take a 3D scan. Stationary 3D scanners use a turntable and laser system for scanning. The disadvantage of the stationary type scanners is that scanned object size is limited to the size of the turntable included with the unit. The Fuel3D scanner is fully portable, allowing you to walk around objects to scan them, eliminating the need for a turntable. When scanning large items, one will have to piece together the items in a post-production state with another type of software. This is one of the downfalls of scanning larger items with the Fuel3D scanner. Also, this adds an inconvenience onto those who may primarily perform smaller scans and wish for the whole object to be captured in one.
With a maximum resolution of .25mm, or around 350 microns, Fuel3D's scanner can capture twice the resolution of other scanners we have seen in this price range. It is important to note, however, that the resolution can be less if you are not as close to an object that you are scanning. On average, the scanner's resolution includes 375,000 vertices and 750,000 polygons. We were impressed with its full color capture ability and how crisp the images appeared when uploaded. The scanner excelled at the capture of human faces, fabrics, and naturally-occurring objects, such as flowers and leaves, and made some very accurate scans of other objects we had laying around. Glossy, shiny, and otherwise reflective or transparent objects captured were a bit less accurate. Very dark items, as well as items with little texture were likewise difficult to capture.
Fuel3D claims that it is the world's first 3D scanner to combine pre-calibrated stereo cameras with photometric imaging to capture and process files in mere seconds. Although the stereo cameras work well to derive excellent scans when the parameters are right, we found scanning was not too much quicker than other scanners we have tested. Most scans, however, were available for use between 30 seconds to one minute. A drawback of the stereo camera setup is that both cameras must be able to fixate on the same point on a scanned object. Objects with deep holes and crevices may be harder to scan due to this.
Fuel3D's corresponding software is easy to use and worked fluidly with the scanner. The software generates a 3D color data file and allows some basic editing functionality prior to actually exporting your image. We were able to trim unnecessary areas, adjust the resolution and tinker around with saving in various 3D file formats. To run the Fuel3D software, you will need Mac, Windows 7 or higher, 2GB of RAM and a dual-core processor. The software makes it easy to use scans for a number of different purposes, by allowing you to export in STL, PLY and OBJ file types. The scans made with the Fuel3D scanner can be used in 3D printing, full-color onscreen rendering and many other uses in games and applications.
Overall, the Fuel3D scanner is an excellent product that is doing its best to break the 3D scanning and printing market wide open. An excellent Kickstarter campaign has propelled the machine from prototype to production, and with such a huge backing from investors, it is expected to be a success. With the 3D industry growing as it is, the sky is certainly the limit for those companies who are developing 3D-related instruments and machinery. With its ease of use, flexibility and ability to detect and compile excellent scan data, it is no wonder that the Fuel3D has fueled creativity and innovation in the 3D imaging industry. For users looking for a portable, accurate scanner, this could very well be a great fit. For 3Ders with less change to throw at a scanner, especially for those of us with iPads, the iSense or Structure Sensor may be a better fit. However, with the features that this scanner has to offer, as well as a competitive pricing point, we are pleased to include the Fuel3D scanner on our list of iReviews 2015 best 3D scanners under $1,500.
Related YouTube videos: