Summary rating from
2
user's marks. You can set own marks for this article - just click on stars above and press "Accept".
Accept
Fiat 500e
"While a single person or a couple might find this car to work for them, the average family who needs power and space will need to seek other options."
---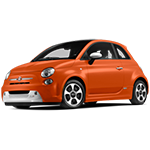 Marketed as "Environmentally Sexy", the Fiat 500e has bold looks for a lower price than most other electric vehicles available. Its smooth attitude and abundance of tech goodies takes the electric car to a place it's never been. Its Italian styling, peppiness and aerodynamic design turn heads, and combined into such a sharp-looking package, an affordable electric car is conceived. Quicker and quieter than its gas-burner brother, the 500e has less leg room in the back seat and weighs more, due to the battery packs. The style of the car isn't for everyone though, and that seems to be the one thing consumers say they don't like about this smaller car. But with rental car vouchers for longer trips included in the price, the 500e is a great value, even before massive qualifying car credits.
No matter your opinion on the look, Fiat 500e's exterior screams to be seen. As a matter of fact, with color choices like "Electric Orange Tri-Coat Pearlcoat" and "Retro Light Blue", it screams anyway. On a small car, 15″ wheels take up a lot of space. Cast aluminum wheels and a wider rear wheel stance add beef to the little guy. The Sport version comes with painted aluminum wheels that have Electric Orange inserts. All-season low-rolling resistance tires help with efficiency, as do attractive aerodynamic features. A specially-designed rear spoiler, a lower front fascia and a rear air diffuser optimize airflow management underneath the vehicle. The spoiler, rear fascia and side fairings also reduce drag. Not all practicality, the exterior features become more fun from here. An available one-touch sunroof features vent, tilt and slide to keep the fun and sun in this unique ride, unless the sunroof is closed. A deep tint on this glass keeps unwanted sun and heat out. Famous for their accessories, MOPAR naturally has all the considerations for customization that fun-loving Fiat drivers can imagine.
The eSport Package offers aesthetic trim accents, in black and electric orange, along with Sport level badging, black headlight trim bezels, chrome trim and orange covers for heated power exterior mirrors. Beyond the eSport package, the front fascia comes in contrasting white, which looks sharp against the wild body paint choices. Energy-saving halogen headlamps have "500e" engrained into their bezel design. Ultraviolet and abrasion-resistant polycarbonate-coated lenses are beacons, not only of light, but of a quality product that is made to weather the elements and overcome harsh conditions. The rear fascia features a perforated design with Fiat badging, and houses the standard Park Assist System, which detects objects while the vehicle is in reverse.
As unique and bold as the exterior of the 500e is, the interior is ten times as mind-blowing and "loud". Leather and cloth inserts, held together by contrasting colors in stitching, bring this auto's interior to the front of the line. Available in two beautiful combinations, Steam/Electric Orange or Nero/Electric Orange, the interior combinations somehow work together. Made from premium materials, these comfortable and convenient seats offer more than just a place to sit. Reclining front seats with rounded headrests fit driver and passenger well. A contemporary design theme rolls over into the instrument cluster, which features EVIC, or Electronic Vehicle Information Center. This system shows information like charge indication, a driving behaviors guide, and a digital speed indicator.
A driver could spend a few minutes looking for the shifter, but a traditional arm is nowhere in sight. In its place is an electronic push button shifter. On the center of the instrument panel is the LED charge indicator panel, which, with a series of five amber LED lights, notifies the driver of the battery's state of charge. Mobile phones and MP3 players connect to the car through the BLUE&ME system, which provides hands-free control of systems via voice command. Also, as a component of BLUE&ME, TomTom navigation displays maps and over 7 million points of interest on a removable touch screen. A six-speaker premium sound system with MP3, SiriusXM/AM/FM, aux and USB inputs, and CD player round out a rich interior.
Rated at 108MPGe, the 500e's engine has an estimated consumption rate of just 29 kWh per 100 miles. A rich combo of lithium-ion battery, high-power drive motor, and power inverter module manage power flow in a very efficient way. The motor, with 83 kWh, 111 hp and 147 ft-lbs of torque makes this a quick and fun to drive vehicle. The lithium battery holds a charge well and does not suffer from memory issues. A heating and cooling system keeps the battery at optimal temperature for operation. It carries an eight year limited warranty on said battery, which is not the best we've seen in the electric car world, but it still offers a great amount of peace of mind. A single-speed gearbox with calibrated gear reduction works very well with the engine to produce not only fun but energy efficiency. Lower electric motor input speeds, decreased battery usage and more efficient use of vehicle energy with increased torque output capacity are a few of the benefits this transmission provides. With a mediocre 87-mile battery charge range, the car can conquer 60 mph in as little as 8.4 seconds, which is 1.5 seconds quicker than its gas-fueled brother. An 88 mph top speed isn't terrible, but should be higher for such a small car. The added weight of battery and electric car accoutrement hinder the car in this aspect.
Equipped with seven air bags and steel cage construction, safety seems to be as highly contemplated as fun in this unique ride. An audible pedestrian warning system (which is actually different than the horn) is automatically selected in forward or reverse driving mode, when the car is around 20mph, to warn pedestrians, as well as the driver, to ease up when walkers are nearby. With an Electronic Stability Control system, drivers will enjoy Hill Start Assist. Also, the vehicle senses which way it is turning, as well as the behavior of the driver and his steering habits, to strategically apply the car's brakes in varying fashions to maintain stability and get it back on its intended path.
With a starting MSRP of $31,800 and Fiat's website estimating $15k in qualified vehicle credit, drivers can come away with a deal and a new 500e for as little as $16,800. While a single person or a couple might find this car to work for them, the average family who needs power and space will need to seek other options. Based on its overwhelming style and rich features, however, the Fiat 500e makes our list of iReviews 2014 best electric cars.
Related YouTube videos: