Summary rating from user's marks. You can set own marks for this article - just click on stars above and press "Accept".
Accept
Extreme Fliers Micro Drone 2.0
"The Micro Drone 2.0 is a great product that comes from a great company which makes your satisfaction as their customer their top priority."
---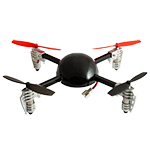 The Extreme Fliers Micro Drone 2.0 is a tiny quadcopter remote controlled drone that has been created to let you use drone technology without being a professional. It has certain aspects of professional drones (design and abilities) but it is easy enough to use and made primarily for beginners. It gives you a great tool that also captures pictures as it flies, adding to its appeal. It is, in the least amount of words, a great drone to start with.
Since the Micro Drone 2.0 is designed for more casual use rather than professional, this drone offers so much for your use and entertainment. The Micro Drone 2.0 comes with a kit that includes an HD camera, sensors and a remote control, meaning that you have all of the commands in the palm of your hand. There are four extensions, or arms, in an X-shape which defines its design. It has a rotor on each arm that makes it fly. The drone is 10.24 x 5.12 x 10.63 inches around and is very lightweight at only 0.01 pounds. The camera is an HD accessory, located on the bottom of the drone, capable of 720p resolution with a slot to place an SD card to store pictures and recorded video footage. The camera has a wide angle lens, so the pictures look more panoramic and scenic, which is very fitting for a device that can take pictures from hundreds of feet in the air.
The structure of the drone is metal, allowing it to withstand the hardest of crashes. However, in the event that your drone crashes so badly that it requires replacement parts, they are easily found online. The motor that makes the Micro Drone 2.0 fly is highly efficient, high speed and cordless. The battery is a 300 mAh Lithium Polymer (Li-Po) battery that lasts approximately ten minutes per flight. The electronics portion of the Micro Drone 2.0 includes a 6-axis gyroscope and a 2.4 GHz radio frequency. The Micro Drone's firmware can be updated, which keeps your drone up-to-date with the latest technology and features without making you spend unnecessarily to purchase updated versions of the drones.
The things that the Micro Drone 2.0 can do defy its size. It is one of very few micro drones to carry a camera for pictures and videos, giving it an edge over its competition. It cannot collect any GPS data, so it lands wherever you direct it or wherever the battery dies. It is a self learning device only in the sense that it figures out its position while flying. For example, if it finds itself flying upside down, it will correct its position and begin to right itself. This is one of the many advanced sensory features that it has.
The Micro Drone 2.0 has a self-cooling motor cage to disperse heat, reducing the risk of overheating and destroying the drone. It also uses advanced robotics to not only stabilize itself but perform stunts in the air. The drone can fly a total range of 400 feet which does not sound like much but is due to its limited battery life. There is no real worry that the drone will get too far from your reach, unless it lands on a rooftop or disappears, so you do not have to worry about losing your investment. The drone does so much, despite being categorized as a toy, but it is one that anyone can enjoy as they explore this fascinating piece of drone technology.
Extreme Fliers creates and sells remote controlled toys and drones that you can purchase from a number of online and conventional distributors. The goal of the company is to create and introduce the most innovative products that are designed to be exciting and realistic to you, so you can use them to enhance your racing experience. The company also encourages communication between themselves and consumers, and they will always ask for your opinion on their product. They will also ask how they can improve their products so they can create future models that are better than ever before. The company makes it a point to put you and your needs on the front line of their production priorities.
The Micro Drone 2.0 is a great little introductory drone no matter what the application is, whether you are looking to take great photographs and videos, or simply fly it around. The limited battery life, smaller size, and limited range makes this specific drone a great learning tool for all ages and is a good choice for the first drone you choose to familiarize yourself with the technology.
Overall, the Micro Drone 2.0 is a great product that comes from a great company which makes your satisfaction as their customer their top priority. They have created for your use and entertainment a great small sized drone that accomplishes their goals ingeniously. There are many drones out there that require lots of attention and have a large price tag that would be intimidating to a new user, but the Extreme Fliers Micro Drone 2.0 is a great choice and worthy of inclusion on our list of iReviews 2014 best drones.
Related YouTube videos: