Summary rating from user's marks. You can set own marks for this article - just click on stars above and press "Accept".
Accept
eQUALITY TECH Rexcan CS+
Price:
$58,900
"The Rexcan CS+ accurately captures real-life objects and brings them into digital environments."
Back to reviews
Visit website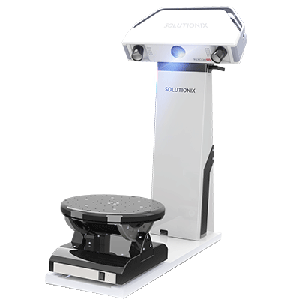 The eQUALITY TECH Rexcan CS+ is an ideal representative of eQuality Tech's latest series of affordable, highly accurate, lightly structured 3D scanners. The eQUALITY TECH Rexcan CS+ is perfect for scanning small to medium sized objects in a completely automated way. It proves the fact that 3D scanning does not require a lot of work. While using this scanner, users can scan the objects with a single click of a button. The scan result is immediately available for synchronizing the actual model and the camera views. Users can easily recognize scanning positions and perform more scans as necessary. As the process is very basic and simple, anyone can operate this scanner. Operators do not need any special training for performing scans with the Rexcan CS+.
eQuality Tech, Inc. is a leading supplier of 3D scanners and 3D engineering devices. Being headquartered in Shelby Township, Michigan, experts of the company have more than 15 years of experience in their field. The highly reputed company is also renowned for producing virtual quality control and reverse engineering equipment. The company aims to help designers, engineers and manufacturers to reduce design and manufacturing times. It helps clients in every aspect from first article inspection to tooling modification, repair and continuous conformance. In regards to manufacturing and engineering, eQuality Tech is capable of supporting all sorts of 3D scanning, 3D printing and data processing requirements.
Unlike the traditional scanners, the Rexcan CS+ does not need any targets. It uses the information calculated by axis calibration. Therefore, alignment is defined automatically without requiring any manual registration or targets. A different scanning path might be required depending on the complexity of the scanned object. This flexibility makes sure that users can define their own scanning paths. This allows repeat data collection on objects of different sizes and shapes. After installing the calibration panel, the calibration wizard will walk you through the calibration process. While the calibration process is always essential, it has never been this easy. The user-friendly interface of the Rexcan CS+ ensures smooth automatic calibration for all users.
Though the CS+ is capable of performing all the scanning related jobs on its own, there are some scenarios during which you may need manual control. For instance, you will need manual control for scanning larger or heavier than normal objects. If you own a Rexcan CS+, you don't have to worry about this. The scanner sensor of the CS+ is easily detachable, so you can quickly remove the sensor and continue scanning large objects by placing the sensor in a stand. However, if your scanning jobs are desk-oriented, then you can install the Rexcan CS+ on your desk as well. That way, you don't have to move from your workstation to scan objects.
The pivoting and rotating turntable of the scanner allows the users to reorient parts of the object by clicking on the computer screen. The users don't have to move the scanner or the object to scan from different angles. The integrated turntable makes the scanning process simple and automatic. Rexcan CS+ is capable of scanning small objects with intricate details as perfectly as with bigger objects. It also helps by reducing the necessary time for creating an inspection report or a full CAD model of the object. All these special features have made the Rexcan CS+ a next generation device of future scanning technologies.
eQuality Tech has provided the CS+ with a set of interchangeable lenses ranging from 100 to 400 mm. Calibration is done automatically for different fields of view. The scanner also comes with blue light scanning technology, which helps the scanner to perform its job without being dependent on the ambient lighting of the room surrounding the object. The scanner is capable of performing any type of repetitive scanning jobs including gage R&R, Production Part Approval Processes, First-Article Inspection, etc.
Combine the Rexcan CS+ with processing software like Studio Software or Geomagic Qualify and you have a powerful combination ensuring accuracy, simplicity, flexibility and complete automation. By streamlining the scanning process with the turntable, eliminating targets and ensuring automation, the Rexcan CS+ can reduce the required time for data acquisition and processing dramatically. Regular users agree that this easy-to-use device is capable of delivering excellent quality results within a very short period of time. The scanner's 2 megapixel camera captures detailed features of scanned objects with great accuracy.
The Rexcan CS+ accurately captures real-life objects and brings them into digital environments. This helps the users to speed up product development, establish virtual warehouses, apply unlimited modifications and ensure proper quality throughout the life cycle of the product. The scanner can also be used for reverse engineering purposes, allowing product engineers to easily determine the underlying pattern of finished products and quickly detect any deformation in early models. It is possible to use the scanner in other diverse fields like engineering analysis and virtual manufacturing, as well as many others. It is for these reasons that we include the Rexcan CS+ on our list of iReviews 2015 best 3D scanners over $50,000.
Related YouTube videos: