Summary rating from user's marks. You can set own marks for this article - just click on stars above and press "Accept".
Accept
Creaform HandySCAN 700
Price:
$56,900
"The seemingly limitless applications that are possible with the Creaform HandySCAN 700, as well as its rich feature set and high quality results, warrants this 3D scanner placement on the top of our list."
Back to reviews
Visit website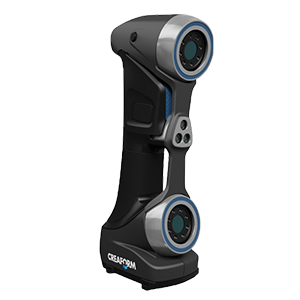 The Creaform HandySCAN 700 is the latest addition in the new generation of 3D handheld scanners manufactured by Creaform3D. It is one of the most popular 3D scanners used by the product development professionals and engineers. This device can easily scan any type of physical object and provide the most reliable and effective results. The new generation scanners have undergone a complete re-engineering process, and as a result, they now are capable of operating with more efficiency. They have become more portable and faster at performing accurate, high resolution scans.
Today's industries require precise and speedy production. Creaform's HandySCAN 700 comes in handy in these situations, thanks to its expertise in metrology and 3D technologies. It is capable of assisting in the design, development and quality control processes. The experienced metrology professionals of Creaform used their expertise in creating the HandySCAN 700. Therefore, this device can be used for critical tasks like quality control, dimensional inspection, etc. Its powerful features, like non-contact metrology and independent assessment, will make inspection in controlled environments easier than before. It is also possible to perform inspections by using the laser tracker. The 3D scanner will help you in optimizing the engineering time for product development by providing digital model of designs, overall dimensions or as-built. Detailed, accurate data acquisition in large and complex areas will reduce production costs significantly. The HandySCAN 700 comes with the shortest possible delay and minimal intervention time, which is very useful for getting fast outputs.
In order to ensure proper assembly in manufacturing mechanical parts, final geometry is a crucial factor. In production, losing accuracy can result in a significant amount of financial losses. Therefore, it is very important to use the best and most reliable instruments. With an impressive accuracy rate of up to 0.0012 inch (0.030 mm), the HandySCAN 700 could be of great assistance to you in this regard. It can validate parts, ensure proper assembly and even make corrections before final delivery. Its quick diagnosis system can detect problems including deformation, heat stress, machining defect, displaced parts, etc. It is possible to adjust the templates for quality control, production or assembly, and if you want, it will provide you with customized deviation reports as well.
By using the HandySCAN 700, you can automate the inspection process on production and assembly lines. Additionally, Creaform3D is capable of integrating other technologies with the scanner and providing necessary guidance services. The company offers personalized software solutions according to the clients' needs. The personalization includes automatic alignment, custom alerts, visual user interface, operator guidance, etc. These additional features can ensure a detailed but flexible inspection, and with their help, you can take measurements of a moving object, get high accuracy rates in unstable environments, automate result display process, develop specific templates and perform lots of other custom tasks.
The HandySCAN 700 is also used in large, dynamic fields like power generation. As power generation projects usually have tight schedules, the 3D scanner can quickly produce necessary scans and provide crucial information instantly. The 3D measurement technology in the scanner allows it to measure the diaphragm positions precisely and helps in aligning them properly. The scanner is also used to obtain the geometry and specifications of the diaphragm, so that retrofitting could be done in a short period of time. Scanning the vane phases and the turbine shaft makes sure that they will work perfectly in final assembly.
The HandySCAN 700 is perfect for use in large-scale civil structures, too. With time, these structures experience wear and lose efficiency. In order to ensure their maximum performance and proper integrity, these structures need regular inspection. Maintenance engineers need information about any possible structural movements so they can take pre-emptive measures. The HandySCAN 700 can be used in these scenarios to acquire volumes of data and to allow multiple teams to work with the data simultaneously. With a blazing fast measurement rate of 480,000 measures per second, the scanner can significantly reduce the data collection time. It comes with seven laser crosses, which means it is capable of scanning the tiniest imperfections and deformations.
The HandySCAN 700 can also be useful in manufacturing marine equipment. Necessary time for developing naval products can be optimized by using representative digital models created by this 3D scanner. Ship owners need to comply with certain regulations and do buoyancy studies in order to get the necessary rights and certificates. This process can be facilitated by acquiring the ship's measurement data via a scanner like the HandySCAN 700. The scanned data can be converted to 2D vertical sections, imported into the popular CAD software and submitted to maritime authorities. Marine vessels and equipment also tend to corrode, as they remain underwater most of the time. Hidden heavy corrosion could be very dangerous, but is possible to identify any such failure by using the scan data in finite element analysis and real break tests. By analyzing this data, it is possible to prevent mechanical failures before they happen.
The seemingly limitless applications that are possible with the Creaform HandySCAN 700, as well as its rich feature set and high quality results, warrants placement of this 3D scanner at the top of our list of iReviews 2015 best 3D scanners over $50,000.
Related YouTube videos:
Embed: <a href="http://3d-scanners.ireviews.com/creaform-handyscan-700-review"><img src="http://www1.ireviews.com/images/2015-iReviews-gold-badge.png" alt="Creaform HandySCAN 700 iReview"/></a>