Summary rating from user's marks. You can set own marks for this article - just click on stars above and press "Accept".
Accept
Creaform HandySCAN 300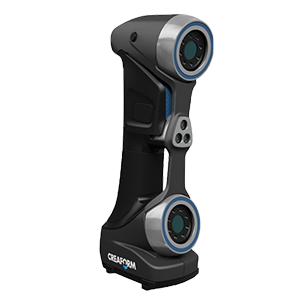 The new generation of handheld scanners made by Creaform3D is optimized to provide the best possible performance for engineers and product development professionals. If you are looking for a reliable device to perform 3D measurements in an effective and efficient way, then Creaform HandySCAN 300 could be one of your top choices. Drawing off from its vast experience, Creaform3D has completely re-engineered their 3D scanners. As a result, the new 3D scanners have become faster and more portable than ever before.
The HandySCAN 300 is capable of providing accurate measurements in real-life, practical operations. With a resolution of up to 0.002 in (0.050 mm) and accuracy up to 0.0012 in (0.030 mm), the scanner is certified for its traceability and high repeatability. It is capable of working perfectly in any environmental condition. The accuracy or the data acquisition quality of the HandySCAN 300 is not affected by the changes in surrounding environments. The device also comes with its own positioning system. You can calibrate the scanner every day or before beginning new scanning sessions. The calibration takes less than 2 minutes and ensures optimal performance.
The reference system of the scanner is created by using optical reflectors. Therefore, users can move the object while scanning is going on. Though optical technology is a relative newcomer in the world of metrology, it is here to stay. Most design experts and quality control professionals believe that optical measurement technologies are the future path of dimensional metrology. Optical technologies are especially useful for large-scale, industrial applications. The HandySCAN 300 makes full use of optical technologies in order to provide highly precise performance.
With a weight of less than 1 kg, the HandySCAN 300 is a truly portable 3D scanner. And due to the re-engineering, it works 25 times faster than the previous generation of scanners. At a rate of 480,000 measures per second, its measurement rate is one of the highest in laser scanners. It processes data instantly; therefore, you get the output almost instantly after you finished scanning. Output files could be used in any RE/CAD software without performing any kind of post-processing. The very short learning curve of the scanner has helped it become a popular choice for beginners and pros alike.
The HandySCAN 300 is perfect for use in concept, design, servicing, manufacturing and lots of other fields. You can use the scanner for prototyping, quality control, documentation, recycling, simulation, analysis, CAD designs, etc. The package comes with a handy carrying case, power supply, calibration plate, 2,000 positioning targets and custom USB cable. Additionally, you can add other accessories like magnetic reusable positioning targets, an external battery, special laptop computer, rugged tablet with VX remote, etc. The parts and labor are secured by a one year warranty, so you don't have to worry about them.
The power of the HandySCAN 300 could be significantly increased by using some additional tools. Among those available tools, MaxSHOT 3D is very popular. MaxSHOT 3D is an optical coordinate measuring system. While used with a 3D scanner, it can yield an even higher rate of data accuracy through photogeometry. The MaxSHOT facilitates in generating precise positioning models of the objects. Another widely used tool is the VXmodel software module. This module integrates perfectly with VXelements, the proprietary processing software of Creaform. By using VXmodel, you can easily produce 3D scan data that can be used directly in any 3D printing or CAD software.
All of Creaform's scanners, including the HandySCAN 300, are provided with its standalone 3D software platform, VXelements. This platform powers all the measurement and 3D scanning technologies that the company has to offer. The software provides all the essential tools and elements in a simple, focused, user-friendly interface. The built-in real time visualization system enhances the scanning experience for the user. The complete scan file is available as soon as the data acquisition step is completed. As a result, you will be able to start your design, part inspection, or any other relevant task instantly.
A very useful feature of VXelements is you don't need to provide a fixed scan resolution. While you have to provide a resolution value to start the scanning process, that is totally independent from the object's actual size, and the resolution can be updated easily before or after the scan. Advanced features like boundary filters, smart decimation and hole filling enhance the final result dramatically. The Surface Optimization Algorithm lets you avoid scanning multiple scan layers. Instead, it combines all the layers into one and provides a perfect mesh without post-treatments.
Creaform is a company that specializes in developing and manufacturing 3D engineering services and 3D measurement technologies. The company offers various types of solutions including reverse engineering, non-destructive testing, 3D scanning, numerical simulation, quality control, product development etc. Its products and services are used by aerospace, healthcare, manufacturing, automotive, consumer products, research, education and power generation companies. Creaform is a sister concern of AMETEK Inc. AMETEK Inc is one of the leading manufacturers of electromechanical devices and electronic instruments in the world. With their vast knowledge and experience in 3D modeling technology, it is no wonder that the HandySCAN 300 is one of the best 3D scanners available today, and worthy of inclusion on our list of iReviews 2015 best 3D scanners under $50,000.
Related YouTube videos: