Summary rating from
2
user's marks. You can set own marks for this article - just click on stars above and press "Accept".
Accept
BMW i3
Price:
$41,350
"A bright interior and standard premium features add a great value for buyers, and plenty of deluxe features allow for an excellent ride for drivers and passengers alike."
Back to reviews
Visit website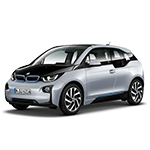 The BMW i3 is a revolution in vehicle design, well beyond its electric vehicle classification. Innovation in the form of the i3's modular construction signifies the beginning of a new era of automobile design. Sustainable processes and materials make up an interior that resembles something found in a concept vehicle. Efficiency continues through the use of carbon fiber as a natural choice for a lighter vehicle structure. A powerful electric engine, powertrain and available range extender make for a great driving experience. Traditional, pure BMW styling throughout the design concept signify pure BMW fervor, while innovation and revolution reign supreme and keep up with the more connected generations.
The i3's exterior is a beefy, tough design both visually and structurally. For the first time ever, a production automobile has been given a modular design. BMW's LifeDrive Architecture separates the auto into two modules: the "Life" self-contained unit, or passenger cab, and the "Drive" unit, a skateboard platform that houses the drive and chassis components. Another first, the Carbon Fiber Reinforced Plastic Life module, is the only mass produced CFRP passenger cell in the automotive business, which plays a major factor in the car's overall efficiency. Strong as steel but half as heavy, the lighter passenger cell allows the battery to work less and do more with its capable charge. This passenger cell features rear-hinge rear doors, an open carriage-style and a sporty black band top that stretches from hood to end of tailgate.
Wheel design is dependent on choice of interior package, of which three are available. Standard 19″ Star Spoke light alloy wheels come with the base package, a choice of 19″ Turbine-style wheels with the Mega World package, and a more stylish Terra World package offers a much more stylized Turbine style wheel. A seamless rear hatch, in which the taillights and hatch structure sit behind a single unbroken sheet of glass, brings about a sleek and modern look. The front fascia sports a non-functional twist on a BMW design staple; the front snout, with its unmistakable looks, is not functional due to the engine's rearward position. LED lights all around with distinctive styling pile on more classy, tough looks.
A very funk-driven interior design mixes elements of tech and chic to keep drivers and passengers entertained and comfortable. Keyless entry and push button start conveniently allow you entry and to start the engine without removing the key from your pocket. An electronic climate zone control allows you to choose a different air temperature for the upper body than the foot area. With automatic recirculation control, a sensor detects pollutants in the cabin such as carbon monoxide, and automatically switches to recirculating air. Twin active charcoal micro-filters significantly help filter air from pollutants, such as dust, bacteria and odors, keeping them from entering the cabin.
BMW's iRemote app for iOS and Android devices allows you to receive detailed information about the current status of your vehicle, including range display, battery conditions and charge levels, service messages and vehicle location. With Charge Control, charging activity can be adjusted or ended via your portable electronic device. The climate control of the passenger cabin and the high-voltage battery can also be activated through the app. The BMW iRemote App also allows access to route planning and charging station locations, sent to the vehicle before the route begins. The i3's navigation system is easy to use and professional, powered by ConnectedDrive Services, and was specially designed for accuracy, performance and ease-of-use. The mapping system takes into account the charging condition of the vehicle, driving habits, traffic situations and the topography of the route to accurately calculate the range the vehicle can travel on its remaining charge.
BMW has developed three very sharp, cutting-edge interiors for three distinct trim packages. The base package, called Mega World, comes with SensaTec and cloth seats, LED headlights and Navigation system. The i3's Giga World package comes with natural leather and wool cloth seats, leather-wrapped steering wheel, garage door opener, comfort access and SiriusXM satellite radio. Building on the lesser packages, the top of the line Terra World package adds full deluxe leather upholstery. Another advantage of modular design rears its innovative head, this time inside the car; no drive line runs through the cab, therefore no center hump is present to disrupt storage or headroom. A higher-located driver's seat gives drivers the command and vision of the road that is appropriate for a machine of this caliber. Split folding rear seats add room for 11.8 cubic feet of storage. HD radio, which is piped through an optional Harman Kardon premium sound system, rounds out a great passenger experience.
BMW couples its rear-located, 170 horsepower and 184 ft-lb electric motor with a 22 kWh lithium-ion high-voltage battery. Temperature fluctuations that affect battery performance are dampened by a temperature regulation system, keeping the battery efficient and retaining charging capabilities in the cells. BMW places an 8-year, 100,000-mile warranty on the i3's battery. At 240 volts and 30 amps, the battery can be fully-charged in 3.5 hours. With a 440 volt charge, the battery can be charged to 80% in 20 minutes, and in 30 minutes can be fully charged.
Weight savings and efficiency control are responsible for a 0-60 mph time of around 7 seconds, or 4 seconds from 0-35 mph. At top speed, this EV can handle 93 mph well. Three drive modes: Comfort, Eco PRO, and Eco PRO+, adjust top speed and change outputs of accessories such as climate control, thus changing the range of the vehicle's batteries. BMW advertises a 24% range increase between Comfort and Eco PRO+ modes. An optional range extender, a 34 hp, 650cc 2-cylinder inline gas engine with 2.4 gallon tank, operates as an on-the-go charger for the batteries and does not actually turn anything, but acts as a generator. Without the range extender, the i3's range is 110 miles, but up to 185 miles can be conquered with optional range extender in place.
With innovation in its design and engineering, the BMW i3 is turning heads. A bright interior and standard premium features add a great value for buyers, and plenty of deluxe features allow for an excellent ride for drivers and passengers alike. With a starting price of about $43,000, a luxury electric vehicle is fairly attainable by the masses. We feel that the BMW i3 has enough functionality and enough gadgets to make a great electric vehicle for practically anyone, ranking on our list of iReviews 2015 best electric cars.
Related YouTube videos: